Outreach and Engagement Award
How to apply
The 2022 Award is open for nominations.
We request you read the Award's guidance document before nominating or suggesting a candidate.
Candidates can enter by being nominated either by themselves or a colleague.

There are two categories of Award:
New Researcher - Nomination Form
This category is open to bioscience researchers currently reading for a Masters/PhD or in the first year of a post-doctoral position.
Leadership in Outreach and Engagement - Nomination Form
This category is open to bioscience researchers who are beyond the first stages of their research career, as defined in the New Researcher category.
The deadline for nomination forms is 23:59 BST on Friday 1st July 2022.
Colleagues can also suggest a candidate for the award by completing a short online form:

Suggestion Form for colleagues
Please complete the suggestion form by Friday 17th June 2022, so that we can get contact suggested candidates in time to complete a full nomination form.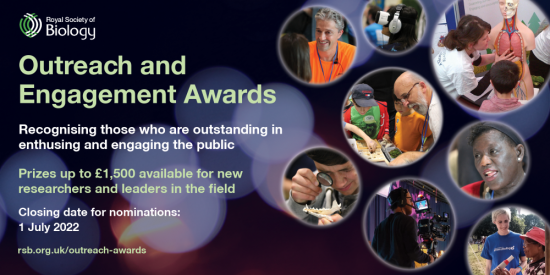 About the award
The Outreach and Engagement Award is intended to acknowledge and reward outreach work carried out by researchers who inform, enthuse and engage the public with their research.
Find out more about previous winners.

Prizes
New Researcher - £750
Leadership in Outreach and Engagement - £1500
Eligibility
The Award is only open to researchers studying or working in any sector of UK biosciences, from universities, institutes or industry.
Researchers who are paid for their outreach and engagement work are eligible to apply.
There is no limit to the number of applications per year from an individual university, institute or other organisation.
Work which has taken place in the last 24 months is eligible.
Previous RSB Outreach and Engagement Award (formerly Science Communication Award) winners are not eligible to enter again, in the same category.
Professional science communicators, outreach officers, public engagement staff and anyone working in outreach and engagement at 0.5 FTE or higher are not eligible for the Award.
Contact
Email Raghav Selvam if you have any queries regarding this award.
Judges
Dr Aimee Eckert, Breast Cancer Now
Dr Liz Granger, University of Central Lancashire
TBC