Biology Week in Schools
Biology Week is a great opportunity to encourage enthusiasm for biology in and around the curriculum.
On this page you will find hints and tips on running your own Biology Week event in school, resources for lessons and Biology Week competitions for schools.
Activity resources for celebrating Biology Week in schools
Biology Week event guides
We have put together event guides to help you with some ideas to come up with your own Biology Week event.
Tell us about your activities!
We are always really impressed with the activities teachers put on during Biology Week. You are welcome to use the resources on this page and the Biology Week event materials. We would love to hear what you have planned.
Fun resources for organising events
---
The Society, along with its Member Organisations, has put together quizzes for schools, to run either during lessons, tutor time or in science club.
---

This Biology Week we launched a poll to invite the public to vote for their favourite UK tree species. Use these resources for classroom discussions and debates, or even host your own poll!
Find out more about the shortlisted trees and winning tree.
---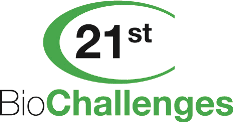 Schools can download guidance notes for excellent enrichment activities to support the secondary curriculum. Each activity introduces participants to new concepts, vocabulary and cutting edge science, with five topics including stem cells, antibiotic resistance and genetic modification.
---
BioArtAttack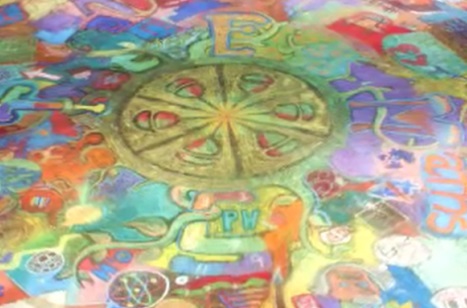 Get young people thinking about biology in the world around them and communicate science through art. Take part in our BioArtAttack competition.
---

Bio-Bodies Bake Off: Each Biology Week, the Physiology Society challenges amateur bakers to produce a bake, savoury or sweet, representing physiology, the science of how your body works, for their chance to win some exciting prizes! There are also Physiology Friday activities, resources and citizen science projects available.
---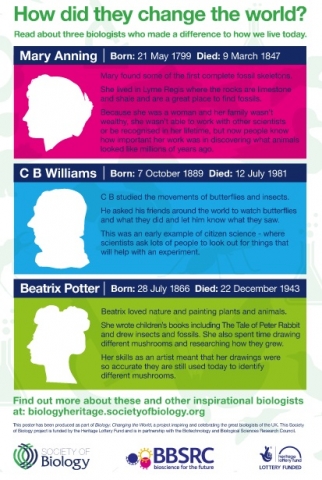 Celebrate the great biologists of the past in order to inspire those of the future.
The website, mobile app (available on apple and android) and schools resources are packed with information and activities about the biologists that shaped the world we live in.
There are also a number of classroom resources available for a 7-11 year old audience.
Visit the website or contact us for hard copies of the poster and teacher notes.
---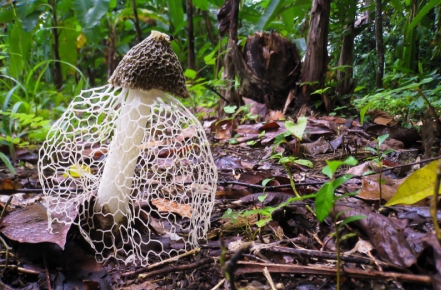 Join in with UK Fungus Day public events at universities, science centres, museums, botanic gardens, nature reserves and National Trust venues, across the UK and Ireland.
There will be 'fun with fungi' activities for everyone to enjoy.
---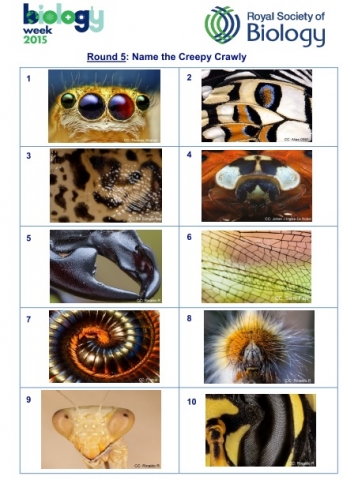 Our quizzes for university students, perfect for Biology Societies are now available to download.
Biosoc Quiz 2016: Questions Answers
BioSoc Quiz 2015: Questions Answers
Resources from BioMed Central: Examine some of the many scientific challenges facing the world, including: cancer, epidemics, antimicrobial resistance and ageing populations.
Free content from Oxford University Press, e.g. blogs and videos.
---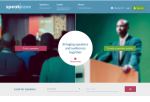 Invite a STEM Ambassador into your school or arrange a speaker for inspiring and intriguing talks and activities. Learn about new careers and cutting-edge research of biosciences. Perfect for science clubs, assemblies or lessons.
Alternatively, get in touch with the National STEM Centre.
---

School spotlight: Hereford Cathedral School and Bishop Thomas Grant School both organised great programmes of Biology Week activities for 2015 which might inspire you to get involved next year.
Use our posters to inspire students around your school.
---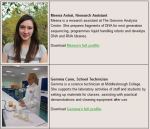 There are a diverse range of careers available in the biosciences.
Find out more about technicians and research assistants working in a variety of fields around the country by reading and watching our technicians careers profiles.
More resources are available in our careers section.
---
Free activity resources
Supplement your lessons with free, interesting and interactive resources:
We have many more free outreach resources to support biology teachers.