Reports
Specimen Drawing Competition and Guided Tour of Kadoorie Biological Sciences Building
6 June 2017
The Hong Kong branch launched its first ever Specimen Drawing Competition in September/October 2016. Student entries were invited from over a hundred primary and secondary schools in Hong Kong. The response was very promising with over 110 student entries coming from 24 schools.
The results were announced in March and a prize presentation ceremony was held in May at the University of Hong Kong, with Professor Matthew Evans FRSB, dean of the Faculty of Science, invited as the Guest of Honour.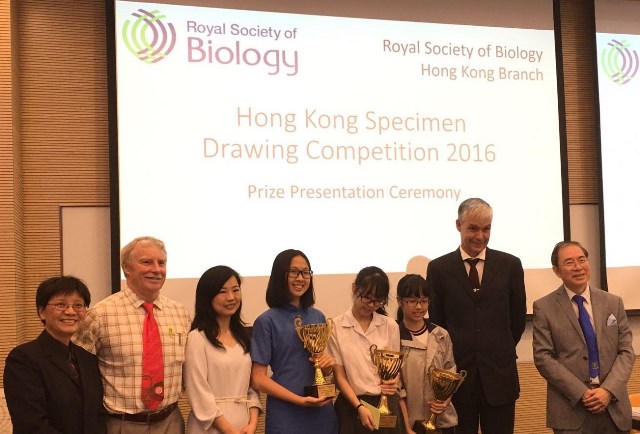 During the Ceremony Professor Evans praised the remarkable performance of the students and samples of the awarding entries were shown and commented upon by the two adjudicators, Professor Gordon Maxwell FRSB and Dr Helen Law. Vice-chair Dr Stella Chan MRSB gave a vote of thanks and presented souvenirs to the guest speakers. The ceremony was immediately followed by a guided tour of the University's specimen museum led by Professor Benoit Guenard of the School of Biological Sciences.
Sik-Yan TSE CBiol FRSB, Chairman, Hong Kong branch
Hong Kong Pilot Gopher Science Lab
8 July 2016
The first ever run Hong Kong Pilot Gopher Science Lab was launched at Carmel Divine Grace Foundation Secondary School in July. This involved groups of secondary school students preparing display boards and PowerPoint slides to explain the biological concepts and guide primary school students through experiments.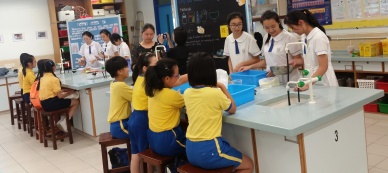 In total over 40 primary pupils from six primary schools were invited to take part in the event.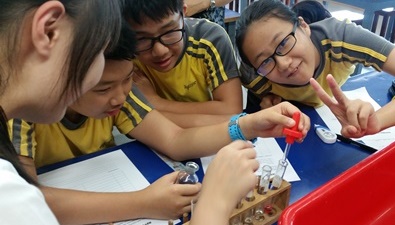 The Gopher Science Lab was a great success and all the children loved it.The secondary school students learned a lot about science and improved their communication and leadership skills.
Mr Sik-Yan Tse, chairman of the Hong Kong branch, and vice chair Dr Chan presented certificates to the participants. Thanks to Dr Gert Grobler who presided over the project, which we hope to expand next year by involving more secondary and primary schools.
Sik Yan TSE FRSB
Open University Visit
4 July 2015
Professor Gordon Maxwell FRSB and Dr Stella Chan MRSB led a group of 18 high school students, aged 15-16, for a visit to the Environmental Laboratory at the Open University of Hong Kong.
The guided tour, which involved hands-on experience with laboratory equipment and time with laboratory technicians, helped the students widen their horizons and gain invaluable scientific knowledge. They were shown how to develop solutions to pollution problems like wastewater and food waste filtrate treatments using their existing knowledge of biological science. This practical experience enabled them to appreciate how applications of science and technology can help solve many global environmental issues.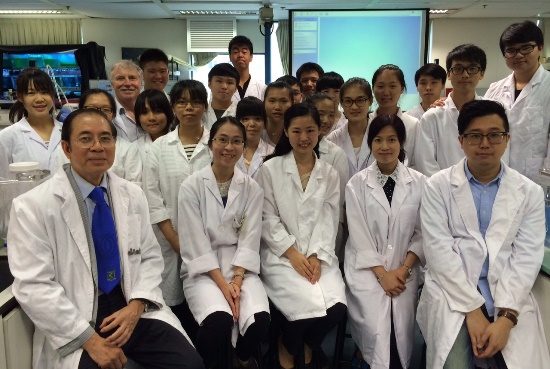 After the visit, the branch hosted a Chinese dim sum lunch during which Hong Kong branch chairman, Sik-Yan Tse FRSB convened some face to face discussions and interflow of ideas between the students, research project leaders, teachers and laboratory administrators.
Sik-Yan Tse CBiol FRSB
Inauguration Ceremony
8 November 2014
Held at the United Services Recreation Club, 28 members, Fellows, family and friends attended the Hong Kong branch inauguration ceremony. Guests met for an eco-tour of the century old club followed by a poolside barbecue. Chair Sik Yan Tse CBiol FSB welcomed all attending the meeting, where the future direction of the branch was discussed.