Nature as Health Partner
26 March 2022
Our first South Australian speaker, Alex Gaut, gave a heartfelt talk about Nature as a Health partner, based on her masters research at the University of South Australia.
Alex has a background in marine science and education and a research focus on environmental psychology. Her presentation started with the notion that the human/rest of nature relationship is broken, demonstrated by ongoing environmental degradation around the planet, and went on to explain what we can do to heal this relationship.
Most of us are separated or disconnected from nature, per Louv's 'nature-deficit disorder'. Importantly, green space facilitates social interaction, social capital and connection and is especially important for vulnerable populations. An imperative to healing this broken relationship is the need to spend time both in and with nature by developing a respectful, reciprocal relationship and enacting many more pro-environmental behaviours.
Attendees learned about different ways of doing this, e.g., nature or green prescriptions, having an in-nature 'dose'. People can reconnect with the rest of nature by showing reciprocity - not just taking but also giving back to and supporting nature, to thrive together. Other examples include learning from First Nations people, nature volunteering and gardening, also sensory immersion, slowing down, being present in the moment and enjoying nature's beauty.
Related to this, Alex also leads occasional free nature-connection sessions in Belair National Park near Adelaide, with one of the participants commenting: "I can't believe I got to this stage of my life without ever having just sat in a forest. What have I been doing all my life?"
Alex's presentation stimulated lively discussion and during Q&A, RSB Australasia member Professor Wei Wang summarised his research on sub-optimal health and offered to share his results with interested members. RSB Australasia will also investigate running a forest-bathing event in the near future.
Photograph and credits can be found online and the talk can be rewatched on the RSB YouTube channel.
Associate Professor M Anne Hamilton-Bruce FRSB, Ms Alex Gaut, Dr Rob Eley FRSB, Ms Stefanie Bonat MRSB
Tackling obesity one cell at a time
29 January 2022
RSB Australasia kickstarted 2022 with an online talk by Dr Ross Graham CBiol MRSB, from the Curtin Medical School and Curtin Health Innovation Research Institute, detailing the research carried out at Curtin University in collaboration with the Australian Synchrotron facility. The talk was attended by members of the Australasia branch and was recorded for the RSB's Youtube channel.
Liver disease among obese patients is of high concern, as it has increased drastically over the last 60 years, with changes in diet and lifestyle that have affected our society as a whole. Dr Graham's research lab focuses on understanding the mechanisms behind non-alcohol related fatty liver disease (NAFLD), and they are doing this by investigating the role of iron in the metabolic processes occurring within the liver.
Often patients that have NAFLD have elevated iron levels, and this is associated with progression of the disease. Linking this chemistry with physiological responses within liver cells may help with developing new treatments for NAFLD and related diseases like diabetes, with the aim of targeting these pathways specifically, especially in cases where other treatment options may have failed.
Dr Graham's lab successfully demonstrated how increases in iron cause increased liver cholesterol. X-ray fluorescence microscopy showed that iron accumulated in individual hepatocytes, while live cell infrared imaging was used to observe how fat content changed with iron loading. This imaging showed that iron-loaded cells accumulated approximately 3x more storage fat (triglycerides) than control cells over time, with longer chain lengths and more double bonds.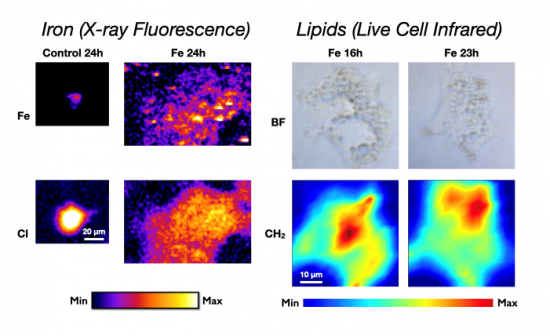 This research has led to important insights into the cell biology of liver disease, although there are still unanswered questions, such as: what is the evolutionary reason behind iron leading to fat accumulation? How do we best diagnose obesity and prevent it before its damage becomes irreversible?
Stefanie Bonat MRSB
Deep-sea sampling in the Tasmanian Seamounts & AGM
19 September 2020
The Australasian branch of the RSB held its virtual AGM on 19th September. Members from five different time zone across New Zealand and Western Australia attended the event.
The AGM was preceded with a presentation by Dr Laetitia Gunton MRSB from the Australia Museum on Deep-sea sampling in the Tasmanian Seamounts.
Professor Lloyd Reeve-Johnson FSRB, branch Chair, welcomed those in attendance and then provided an overview of the creation of the branch. While recognising the difficulties of engaging members across such a vast region, he identified the opportunities offered by the web page, social media and online communication.
Professor Reeve-Johnson and Dr Rob Eley FRSB retained their committee positions of Chair and Secretary, respectively. Re-elected as committee members were Dr Eliot Attridge FRSB, Stef Bonat MRSB, Professor Iain Gordon FRSB, Dr Laetitia Gunton MRSB (Treasurer), Dr Anne Hamilton-Bruce MRSB, Dr Martin Pal MRSB and Adhityo Wicaksono MRSB. Carolyn Reynolds MRSB was voted onto the committee.
The meeting finished with a short address by Professor Nigel Brown, Chair of the RSB's College of Individual Members. He extended a welcome to his office for member discussion, and encouraged branch members to share their experiences with the wider RSB membership.
Dr Rob Eley CBiol CSci FRSB
Opening meeting
17 August 2017
The inaugural meeting of the Australasian branch of the RSB was held by telecon on 17th August and included participants from across the Australian continent and New Zealand. The purpose of the meeting was to encourage participation in the newly formed branch and for forward planning. We remind all biologists in the Australasian/ Oceania region they are most welcome to join our branch and that includes those in South Africa, Indonesia, Malaysia and all Pacific countries as well as New Zealand and Australia.
We would welcome members to also participate in the various committees that we are establishing and encourage all to visit the Australasia branch section of the RSB website and send us contributions for these pages.
Professor Lloyd Reeve-Johnson FRSB
Founding of branch
March 2017
The Australasian branch of the Royal Society of Biology was formally incorporated in January 2017. Over the next months our objective is to migrate our membership from several preceding organisations including the Australian Institute of Biology to one platform and increase linkage via our branch web page. We hope our members will also avail themselves of the Certified Biologist (CBiol) and Certified Scientist (CSci) training opportunities and help attract further members in our region.
We encourage contributions to our web page including short articles, photographic material, notices of events and positions that may be of interest to other members.
We are very keen to have expressions of interest for committee membership, project and meeting hosting/ organisation. Please contact us on australasia@rsb.org.uk
Professor Lloyd Reeve-Johnson FRSB