Welcome to the regional pages for London. Full details of national and local events are available on our events pages.
Upcoming branch events
Watch this space for upcoming branch events.
Past branch events
Visit the reports section to find out about past events the branch have run.
Social media
Visit the London branch Twitter page, Facebook page and LinkedIn group for more branch news.
Our members
Visit the branch demographics to see the numbers and locations of our members (Dated January 2022).
Committee
Chair: Professor Joy Hinson FRSB
Secretary: Professor Patrizia Ferretti FRSB
Treasurer: Dr Alice Baynes MRSB
Members: Ms Simina Botosneanu AMRSB, Ms Eimante Bujaite AMRSB, Dr Paul Davies FRSB, Mr Ka Yui Kum AMRSB, Mr Nakul Patel MRSB, Ms Elisha Pickett MRSB, Dr Christopher Wallis MRSB, Dr Brenda Williams MRSB, Mr Jonathan Wong MRSB.
Contact details
Please get in touch by emailing us at london@rsb.org.uk
Who we are
The Royal Society of Biology (RSB) London branch was reformed in April 2018 and is currently run by Professor Joy Hinson (chair), Professor Patrizia Ferretti (secretary) and Dr Alice Baynes (treasurer).
The committee currently encompasses members from a variety of professional backgrounds, including field biology, molecular sciences, genetics and teachers of biology. The group brings together teachers, researchers and industry members from various biology speciality areas to develop a branch that is dedicated to promoting biology in London.
The expertise and enthusiasm that our committee members bring has been imperative to the development and success of our branch as a whole. Planning events and engagements are now becoming easier and more effective than ever.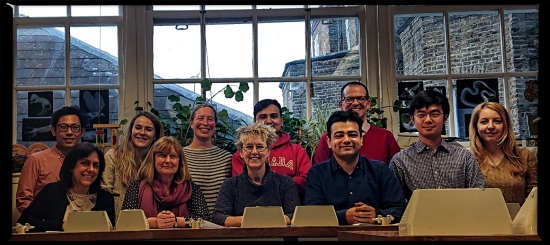 Our events
Our first event was organised at the Wellcome Collection. It seemed only fitting to hold our inaugural event at such an amazing location with a huge collection of books, paintings and objects on the theme of historical development of medicine worldwide. We called it the place "where art meets science".
We continued our efforts by creating a 'Teacher Survey', an effort lead by Paul Davies and Jonathan Wong, who are both biology teachers in London, with the aim of engaging with schools and promoting the benefits of participating in Biology Olympiad and other biology-based activities.
The data are still being analysed, however the preliminary report has emphasised the benefits of identifying the experiences that teachers go through when supporting students for the Olympiad and other types of activities they would be interested in regarding the promotion of biological sciences. We have already learned much from the questionnaire and have started to develop strategies to help London biology teachers and their students.
Our work as a branch continued with our biggest event so far, our Annual General Meeting and talk. We held the event at Queen's College, London and we had the privilege of Professor Stephen Price from UCL presenting a remarkable seminar on combinatorial codes for building bird brains. It was a great opportunity to learn about this exciting aspect of neurobiology and meet peers and biology-interested participants from around London, as well as receive feedback on past events and engagements.
We held our first event of 2019 in early March, when a group of 20 RSB members visited the Bethlem Museum of the Mind to learn about the history of the Bethlem Royal Hospital, the first institution in the UK to specialise in caring for people with mental illness, and how our understanding and treatment of these disorders has changed through the ages.
Other events planned for this year include, a WWT London Wetland Centre guided walk in Barnes, and an educational walk and talk at Kew Gardens.

Outreach and Engagement
Beyond events, the branch is working with The Social Mobility Foundation to help make practical improvements in social mobility for young people from low-income backgrounds with an interest in Science, Technology, Engineering and Mathematics (STEM), by providing mentorship and guidance. This scheme is designed to help young people recognise the part that they could play in future of STEM through university course and other training opportunities. To find out more visit the Social Mobility Foundation website.
After less than a year of working together as a group, we already feel that we are making a difference through our activities. We are focusing on engaging with both young people and adults alike, to create a better understanding of the variety of biological fields and their importance in day to day life.
We are proud to be part the Royal Society of Biology. RSB staff have been very supportive in guiding us through the organisational, financial planning and advertisement of events and we look forward to working together in the future.
We encourage all members throughout the country, who wish to make a difference, to make this small commitment in their areas and become part of something greater.