Tour of the Royal Veterinary College
18 February 2020
Our visit to the Royal Veterinary College Museum was both enlightening and a lot of fun. The museum started in the courtyard where we encountered the first specimens placed around the modern café' area. These included a polar bear and a small elephant skeleton.
In the Dissection Room, used for practical classes, guides enthusiastically described to us horse and cow anatomy painted life size models and corresponding skeletons as well as smaller animal skeletons and plastinated organs from different species. The guides reassured us that all the plastinated tissues and small animals were safe to hold and it was great to have hands on experience.
Lucy, a vet and science presenter, then took us to a lecture theatre and demonstration room. This room has remained largely unchanged for a hundred years and live animals continue to be brought in during lessons.
In the museum we found a collection of fixed specimen in bottles and animal skeletons including Foxhunter, a large champion show jumping horse. A table had also been laid out with a number of bones for us to identify. The quiz was really fun and we managed to identify a number of unfamiliar bones thanks to the guidance of Lucy and the student ambassadors, and, crucially, to the presence of a vet within our team!
Together, the tour was most enjoyable and very stimulating. As the museum is not normally open to the public, we were very fortunate to have the opportunity to visit and be guided through by such knowledgeable and passionate young vets.
Professor Patrizia Ferretti FRSB
A visit and tour of London Wetland Centre
18 May 2019
Attendees to the London branch event had access to the London Wetland Centre both before and after the guided tour, so we were able to make use of the lovely hides and walks throughout the day.
The Wetland Centre was also running a Gardening for Wildlife event on the same day we visited, so there were plenty of wildlife charities (e.g. RSPB, Bat Conservation Trust) on hand with stalls to ask questions and find out more about their work.
The RSB group was split into two tours, the one I joined gave us an informative talk about the origins of the Wetland Centre and its importance to wildlife in London and internationally, while we explored the site. We also learned about the need for high quality-plant identification skills when you are out foraging for salad - don't get cow parsley mixed up with hemlock! And we got to find out what the mysterious noise was in the pond, not a duck but a Marsh Frog, a species which, from the sounds of it, is doing very well at the Wetland Centre!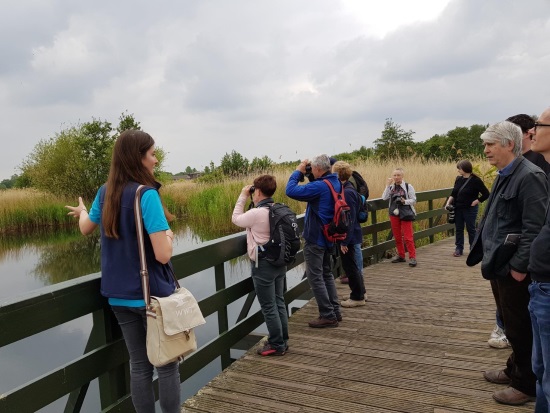 Lapwings could also be seen flying above us, an amazing sight in London of these threatened birds, it really highlighted the fantastic work being done at the centre to provide high-quality habitats so that wildlife can thrive in the city.
Dr Alice Baynes MRSB
Visit to the Bethlem Museum of the Mind
2 March 2019
On a sunny day early in March members of the London branch committee and fellow RSB members travelled to Beckenham to visit the Bethlem Museum of the Mind. This small but well curated museum stands on the grounds of Bethlem Royal Hospital, the oldest psychiatric hospital in the world.
The visit started with us all gathering in the beautiful wood panelled committee room where we were given a brief history of the hospital from its origin in 1247 as a priory in Bishopsgate to its current location, where it has been based since 1930.
We were also told about the iconic sculptures that guard the staircase up to the museum depicting raving and melancholy madness. The walls of the room were adorned with portraits, including one of Henry VIII, and coats of arms – what a wonderful start to our visit. We were then invited to take a self-guided tour of the collection, but staff were always on-hand to answer questions.

The displays were informative - both inspiring and shocking. Inspiring, because of how patients' stories and artwork highlighted how far we have come in our understanding and treatment of mental health. Shocking because of the selection of restraints and straitjackets on display, together with a section of a padded room that was used to seclude patients. The visit provided a wealth of fascinating information that provoked thought and discussion and was enjoyed by all.
Dr Brenda Williams MRSB
Branch AGM and Shackleton talk
7 March 2016
As part of our AGM and celebration of the Society's royal title, the London branch hosted prolific writer and orator Isobel Williams, well known for her fascination with Antarctica.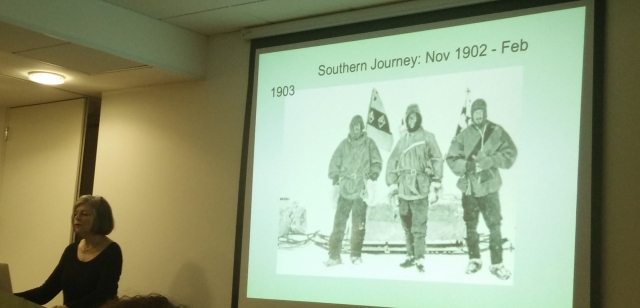 The branch also had a change of leadership as Professor Neville Punchard handed over the position of chair to Professor Caroline Springer of the Institute of Cancer Research. The Society thanked Neville for his contribution over many years as an active committee member and branch chairman.
Pat Baxell and Carol Stevenson were also thanked for their long service to the committee as they step down. At the same time, we heartily welcome David Urry for reconnecting with RSB as a London branch committee member and to our new members Professor Shirley Hodgson and Dr Filipa Lopes.
Isobel delivered an excellent talk on Shackleton, His Life and Times, which was very well received by over fifty attendees. The courage one would need to enter into the uncharted land of Antarctica with limited resources was truly inspirational.
The struggles –economically, physically and mentally – required to reach the pole were immense, but Shackleton's expeditions personified his family motto - By Endurance We Conquer.
Devarshi Kapadia MRSB
Deptford Creek without a paddle
28 September 2015
One thing is certain – comedy duo Flanders and Swann would have loved this recent London branch outing. Firstly, there was Mud, Mud Glorious Mud. Secondly, there was a British Bedstead embedded in the mud. (Both feature in famous songs by the pair).
We were the guests of the Deptford Creek Discovery Centre. Two dozen brave souls turned up in darkest South East London, and were introduced to thigh length waders, a novelty for lab and schoolroom based scientists.
Then it was down into Deptford Creek. The river Ravensbourne rises in Bromley and flows into the Thames slightly north of our entry. Each flood tide brings down so much more rubbish that they gave up "cleaning" the creek years ago. An early attempt at removing 200 Tesco trolleys – yes, 200 – only succeeded in disturbing the niche which sheltered small fry from being eaten by larger fish.
The profusion of plants clinging to the wooden, brick, stone and steel walls was amazing. Most are totally submerged for several hours a day. All are grey from the layer of mud which covers them once the tide has regressed.
Our guide, Nick, uncovered a Chinese Mitten crab, and helped us catch (and identify) several species of fish. He introduced us to a very lonely 'pen', or female swan.
The purpose of these tours is to introduce the public, especially school pupils, to this small slice of ecology, and the centre hosts 150 school visits per annum.
Nick was also able to show us the beauty of Bazalgette's Victorian pumping station and disgust us with numbers about London's sewage. He extolled the glory of Mumford's grain silo – now gentrified into flats. To complete the architectural contradictions of this less than beautiful part of London, we admired Herzog and de Meuron's prize winning Laban Dance School.
As we slopped through 30cm of mud and 80cm of muddy water, we were told that five hours later, where we were standing would be under 7m of water when the tide came in (the moon is very close at present). Thanks to David Urry MRSB for organising this unique foray.
Professor Alan Malcolm CBiol FRSB
Dr Edward Wilson Lecture
13 October 2014
To mark Biology Week the London branch invited Isobel Williams, a doctor from St George's Hospital, University of London, to give a presentation on the life and achievements of Dr Edward Wilson. We learnt that under the leadership of Robert Scott, Wilson joined the 'Discovery Expedition' (1901-1904) to the Antarctica as a junior doctor and zoologist, where his main duties were checking for scurvy and preparing artistic records.
During the expedition, he skinned animals for the Natural History Museum, studied the embryology of Emperor penguins and produced over 200 paintings of the Antarctica.
Wilson later joined the ill-fated 'Terra Nova Expedition' (1910-1912) as chief scientific officer, where he had his own programme of research. He wanted to investigate whether birds descended from dinosaurs and hoped to find vestiges of teeth in early penguin embryos. This work had to be done in the middle of the Antarctic winter of 1911, when he led a small team to Cape Crozier to collect penguin eggs for his research.
The group returned with three eggs to a tent that was blown away by a blizzard, but miraculously recovered the tent and returned to base. He was one of the five British men that reached the South Pole in January 1912, 35 days after the Norwegians had claimed it. On their return, they suffered from malnutrition, hypothermia, dehydration and fatigue that eventually led to their death only 11 miles from the food post.
The lecture gave us an interesting insight of how science and technology have improved human lives. If Scott and his team had known that scurvy was caused by vitamin C deficiency, if antibiotics were available to treat infectious disease, if the team had appropriate and practical insulated clothing to protect them from frostbite, and if they had perhaps had a global positioning system (GPS) tracker, the story we know would have been very different.
Professor Astrid Limb FSB
London Wetlands Centre
6 September 2014
On a Saturday afternoon 16 members and friends visited the London Wetlands Centre in Barnes, preceded by lunch in a nearby pub.
A 15 minute introductory talk outlined the history of the centre - a 105 acre site developed from four reservoirs - and this was followed by a 90 minute tour. A panoramic view of the whole site took us through different 'habitats' - arctic, tundra and so on - allowing us to observe a wide variety of ducks, geese and swans. We were told about the annual winter visit of bitterns, the problems of predation by herons and foxes, and the other animals on the site such as newts and otters.
Following the enjoyable and informative tour, members were free to continue exploring the site and make for the café for some well-earned refreshments.
Pat Baxell CBiol FSB
Keith Simpson: modern forensic science in pathology
12 May 2014
Bill Edwards, curator of the Gordon Museum of Pathology at King's College London, gave us an interesting seminar on the life of Keith Simpson, the first professor of forensic medicine at Guy's Hospital, and the first forensic pathologist recognised as a Home Office pathologist.
Simpson was one of the founders of the British Association in Forensic Medicine and played a key role in the progress of forensic science after the war. We learnt that Simpson stressed the practice of the analysis of fibres, hairs and materials associated with bodies to forensic investigations and pioneered forensic dentistry.
He was also known for his work in identifying suspected murderers by their teeth marks left on the victim's body and also implemented the use of entomology for criminal investigations. Simpson was a prolific writer on the subject and amongst his most popular books were a textbook on Forensic Medicine for undergraduate students and his autobiography entitled Forty Years of Murder.
After the talk, we enjoyed some refreshments and had the opportunity to see some of the displays at the museum, including Lister's antiseptic spray and one of the later additions, the analysis of various waxes, oils and resins used in ancient Egyptians. The event was well received by about 35 members and guests, some of whom had worked in pathology departments themselves.
Professor Astrid Limb FSB
The Biology and Benefits of Cannabis
1 May 2014
Dr David Potter was interviewed a couple of years ago by The Biologist and his biology and benefits of cannabis talk was an excellent opportunity to meet him in person.
Dr Potter was the first ever employee of GW pharmaceuticals and is now their director of botanical research and cultivation. He gained a PhD in 2009 at King's College London on the pharmacology of Cannabis sativa and is probably one of the most knowledgeable legal growers of cannabis in the world.
The talk covered a number of aspects of cannabis, including its history, biology and medicinal properties. It was fascinating to learn that Cannabis sativa has been used by man for at least 8000 years and that different parts of the plant have different uses. For example, the fibres can be used to make rope and textiles, the seeds can be eaten and the flowers produce a range of drugs with recreational and medicinal uses.
One of the facts we learnt was how the plant produces a number of different compounds, known as cannabinoids, on specialised structures called trichomes. Two of these compounds are tetrahydrocannabinol (THC) and cannabidiol (CBD), both of which have anti-inflammatory and anti-spasmodic properties. However, only THC is psychoactive and gives recreational users a 'high'.
Dr Potter explained that the medicinal properties of cannabis have been known for a long time, even as far back as 2,700 years ago. Cannabinoids produced by the plant can alleviate symptoms of spasticity caused by multiple sclerosis. They can also reduce neuropathic and cancer pain, and help aid recovery in patients how are not eating sufficiently.
A main highlight was when Dr Potter pulled out a large live specimen from a suitcase, and the distinctive smell quickly filled the room. Dr Potter explained how cannabis plants can actually have a variety of smells ranging from something similar to bubblegum, bananas or even cat urine.
After the talk, the audience had the chance to ask further questions and get a closer look at the plant. Rubbing the flower heads between your fingers really brought out the pungent smell, but Dr Potter assured us that inhaling the cannabinoids won't make you high. Apparently the THC precursor, which is produced by the plant, needs to be heated up first to make it into active THC.
This was a very enjoyable and informative talk which gave the audience an insight into Dr Potter's fascinating research.
Anna Tiley AMSB
The Physarum Experiments
25 January 2014
Heather Barnett describes herself as an artist first and biologist second, an interesting concept to explore further. In the first part, she talked us through her artistic portfolio in microbiology, cell culture and botany with explanation of the thought processes behind them.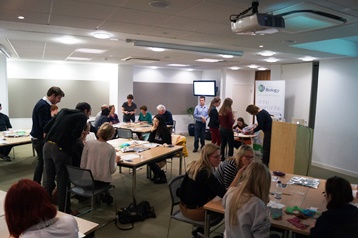 Her ability to ask the nature 'what if I do...' was lurking out in almost every sentence inspiring the audience. It was good to see school kids getting heavily involved asking lots of interesting questions, not just the creativity part, but also the core science facts about the fungi life cycle and some hi-tech paradox questions of what if the fungi is GFP transformed into being a light sensitive organism".
After a networking lunch, our final task was to make an innovative artistic piece to test out the navigational (chemotaxic) capacities of the fungi while tempting it with the food stuff it liked/disliked. Everyone was encouraged to share their progress on the 'Slimeco' website about how they managed to get on with their new 'pet' mould at home.
View some of the slime mould creations
While working in science we get so busy with focusing on the commercial side, so I think it is good to sometimes get ourselves out of that arena and think about why we selected to be in science to begin with and how much we love it.
Devarshi Kapadia MSB
Digitised Diseases & Quiz
4 December 2013
A lecture, seasonal quiz and an evening social were enjoyed by nearly 50 members and guests.
Ahead of its formal launch Dr Andy Wilson from Bradford University treated guests to a talk on his team's Digitised Diseases project. This is an open access online digital resource featuring human bones from various pathological conditions. The library contains more than 1600 3D images and is a superb educational tool.
Following Dr Wilson's enthralling lecture there was plenty to discuss over a mince pie and glass of mulled wine, whilst folk geared themselves up to getting ready to do battle in teams for the quiz. Where knowledge of Darwin's life, collective nouns for animals and knowing what coloured underwear you should wear on New Year's Eve in Mexico to ensure you meet a new love the following year*, would have stood you in good stead. The winning teams collected prizes of giant microbes and calendars from the Society's online shop.
A raffle for the Society's University Research Bursaries raise £86. Prizes included a Richard Weston large silk scarf – usually sold at Liberty's for £170, two main meals and a bottle of wine at the Blue Lion nearby, tickets to Down House and Kew Gardens, and of special interest - 6 cupcakes from Bea's of Bloomsbury.
This proved to be a really enjoyable and fun start to the Christmas season. Our thanks go to David, Penny, from HQ for helping out with the organisation of this event, and Natasha for organising the quiz and raffle.
*It's red of course!
Ken Allen FSB & Cliff Collis CSci CBiol FSB
Threats to Bees and Bee Keeping
12 September 2013
Pam Hunter FSB a master beekeeper with over 23 years' experience, and meetings secretary of the Central Association of Beekeepers, delivered our most popular branch event to date.
Over 60 members of the audience learnt about the 110 million years history of bees and the diversity of the species. Our relationship with the domesticated honey bee (Apis mellifera) goes back to early man; it is captured 8,000 years ago in cave paintings and, later, in Egyptian temples, 2,400 year ago. This relationship has evolved but our food supply still depends on bees proving they are very important to modern agriculture.
Over the past couple of years, our bee population has been under more increasing threat, with growing concerns about the severe decline in numbers. Pest and diseases, such as the Varroa destructor mite, fungus infections, disappearing habitats, neonicotinoid insecticides, weather and of course man himself are all taking their toll. In the UK this list is likely to grow, with other mites, hornets, etc. offering new threats to our bee colonies in the future, especially as impacts of climate change are felt.
After lots of questions this highly interesting talk ended with tasting local varieties of honey, honeycombs and mead. Special thanks to everyone who contributed the honey, especially where it, and other products, came from their own hives!
Professor Neville Punchard CBiol FSB
What Makes Us Human?
13 July 2013
Dr Isabelle De Groote, a paleoanthropologist at Liverpool John Moores University, gave a highly engaging and revealing talk on our evolution at the Natural History Museum. The audience learnt about what separates us from our animal cousins and the traits that have enabled mankind to dominate the planet.
The talk covered the varying differences between early hominids, primates and man, working through the features that distinguish man, such as possessing a large brain case, walking upright on two legs, running, lack of body hair, language, etc. All of which gave the ancestors of man distinct advantages at certain stages in their evolution. Using ever growing fossil and environmental records we learnt how environmental changes produced adaptations to different sources of food and diets. These resulted in different physical adaptations, impacting on posture, movements, teeth, jaws and skull brain size. I found the difference between Homo sapiens and Neanderthals particular interesting, especially the similarity in DNA and cohabitation possibilities. Also that Homo sapiens evolved relatively recently, about 200,000 years ago, and that we would end being the dominant primate species was by no means a certainty.
One of the major things we leant was about was how varying early species of primates met various environmental challenges to evolve eventually in the human race. On a very hot Saturday, with temperatures above 30oC, competing with thousands of tourists at the Museum, the audience of nearly 30 people more than demonstrated that we still have such abilities! Those that did survive all said how much they enjoyed the presentation.
Professor Neville Punchard CBiol FSB
Doctors, dissection and resurrection men
26 January 2013
Natasha Powers, head of Osteology at the Museum of London Archaeology, introduced us to the exhibition with a truly fascinating lecture on dissection and autopsy. She described her team's work both during and after the 2006 excavation of a burial ground at the Royal London Hospital, resulting in the main exhibition display.
A confusing mix of bones, comprising 262 burials, revealed evidence of dissection, autopsy and amputation. We also saw bones wired for teaching and evidence of dissected animals. Natasha gave us an insight into the work of the Resurrection Men (or body snatchers) and their relationship with surgeon-anatomists over their shadowy practices which prompted an increase in the demand for corpses.
A lively and fascinating question/discussion session followed Natasha's talk. The lecture had prepared us well for our subsequent visit to the exhibition, which has been very well assembled with the use of modern displays and exhibition techniques. 40 members and their guests had an excellent day out.
Ken Allen CBiol FSB