Who Are You Calling Weird? A Celebration of Strange and Wonderful Animals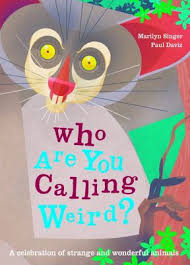 Marilyn Singer and Paul Daviz
Voyageur Press, £12.99
Have you ever wondered what a lowland streaked tenrec or a hairy frog is and what they may look like? If you have, fret no more, as Marilyn Singer and Paul Daviz will take you on a fabulous journey through the animal kingdom.
In their children's book, Who Are You Calling Weird?, the authors have carefully curated and displayed 21 animals, ranging from the bizarre to the humorous, and culminating in a surprising finish. (You have to read it yourself to find out which animal is the weirdest of them all!)
Each animal entry is accompanied by relevant information about its habitat, habits or special abilities. Paired with quirky anecdotes, the book is informative as well as entertaining, and is likely to spark further interest in the child (as well as curious adults).
Central to this book are certainly the gorgeous illustrations. Each occupying a double-page spread, they depict the exotic animals in all their pastel-coloured glory.
This book is certainly more than suitable for young children and presents an excellent gateway to the study of the endless forms, most beautiful and most wonderful, that populate our planet. Our fauna may be weird, but it should be celebrated indeed.
Daniel Bojar