Guide to the Manta and Devil Rays of the World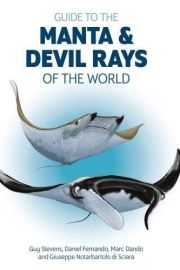 Guy Stevens, Daniel Fernando, Marc Dando and Giuseppe Notarbartolo di Sciara
Wild Nature Press, £13.50
Thanks to sponsorship from the Save Our Seas Foundation, this book is excellent value. Moreover, royalties from the sale of every copy go to the Manta Trust, a UK and US registered charity dedicated to the conservation of manta rays that has collaborative projects in more than 25 countries. It is also, apparently, the first comprehensive field guide on manta and devil rays.
Everything about this book is well designed. The cover has the dorsal view of a ray's external anatomy on the inside front flap and the ventral view on the inside back flap, and it is compact enough to fit easily into a rucksack or dive bag. Marc Dando's line and half-tone drawings are exceptionally clear and a pleasure to look at, and there are lots of large photographs.
The introduction has information on the taxonomy, biology and behaviour of the mobulids, the collective name for manta and devil rays. Further well-written material is provided throughout the book on the identification, characteristics and distribution of each of the species, as well as potential threats to their existence. My only criticism is that some of this is in quite a small font.
Much of the information is intriguing – for example, despite having a liver that is extra large and extra oily for buoyancy, rays still have to keep moving or they sink. They use this continual forward motion to move water over their gills; should they be stopped from moving forwards, perhaps if entangled in fishing nets, they asphyxiate and die.
Rays also reproduce via aplacental viviparity, so that the single young hatches inside the mother's uterus and feeds on uterine milk until sufficiently developed. It is then born through the cloacal aperture.
Other biological characteristics of mobulids include late maturity, long gestation periods and low fecundity, as they give birth to just one pup. This makes them vulnerable to overfishing, particularly for their gill plates, some of which are used in Asian medicine.
An end section illustrates the features of different gill plates and should be of use to those involved in monitoring and enforcing international trade agreements concerning these CITES listed species.
Divers, marine biologists, fisheries observers, fish specialists, wildlife enthusiasts and anyone interested in rays should also find this book useful. It is highly recommended as an informative, well-illustrated and enjoyable read.
Sue Howarth CBiol FRSB