Biology and Conservation of Musteloids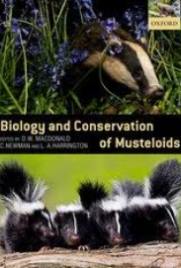 David W Macdonald, Chris Newman and Lauren A Harrington (eds)
Oxford University Press, £45.00
The 90 or so species of musteloids, the most diverse super-family within the order Carnivora, share "an inherent weaseliness" according to the preface of this book. Musteloids range from badgers, martens, minks and skunks to more exotic, endangered or vulnerable species, such as pygmy racoons, giant otters, red pandas and marbled polecats.
The editors have cleverly gathered expertise from around the world to create a text that specifically addresses current research about musteloids. This is their third volume about carnivores, with the first two books covering the biology and conservation of wild canids (2004) and wild felids (2010).
Following an introduction on wild musteloids in general, the book is divided into two parts. Part one contains chapters reviewing major biological themes such as evolution, population dynamics, diseases and the interaction of people with wild musteloids. A delightfully titled chapter 'Stink or swim: techniques to meet the challenges for the study and conservation of small critters that hide, swim, or climb, and may otherwise make themselves unpleasant' does exactly what it describes.
Part two presents case studies focusing on particular species or groups of species such as Asian badgers and kinkajous, as well as discussion of some high-profile conservation issues, including the conservation of black-footed ferrets and the control of bovine tuberculosis in badgers. Geopolitical factors affecting such issues are considered. There is also urgent discussion of invasive species, particularly the American mink and the current lack of regulations in operation to try to save the native European mink.
Clear diagrams, drawings, tables, maps, graphs and black-and-white photographs usefully complement the text on most pages. While there are several authors for different chapters and a lot of detailed information, the overall effect is one of coherence, clarity and a wealth of evidence-based knowledge. This text will be of fundamental and lasting value to all musteloid researchers and graduate students. It is also likely to be of use to those interested in the ecology and conservation of carnivores and the management of wildlife.
Sue Howarth CBiol FRSB