Those with Webbed Feet: All about British Ducks, Geese and Swans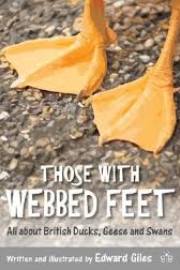 Edward Giles
Brambleby Books Ltd, £12.99
This is a delightful book aimed principally at younger readers who have an interest in either watching or keeping waterfowl. While of limited value as a field guide, it does provide facts relating to 34 species, arranged alphabetically by common name, in three sections: swans, geese and ducks.
There is an interesting introduction that covers the general morphology of waterfowl, nesting habits and the basic classification of the order Anseriformes down to sub-family level. The technical terminology might prove troublesome for some readers, but a comprehensive and well laid out glossary is provided. Some information on domestic rearing and aviculture is also included, together with a collection of 'fun facts' about waterfowl.
Each section begins with a quiz about the group with answers provided at the end of the book. Colour drawings, indicating plumage differences between males and females where appropriate, are provided for each species described, together with a representative photograph of the species. Following a general description, there is information about habitat, breeding behaviour, voice, and when and where to view them in the wild, as well as their IUCN Red List status.
There is also a very useful infographic showing the UK distribution map, lifespan, UK population size and 'sociability'. 'Did you know?' facts for each species are a pleasing addition that are likely to appeal to the novice wildfowler.
The use of contrasting colours throughout make this an appealing book to browse through. Towards the end, there are several pages covering the less often seen migrants and odd domestic or hybrid varieties. Synopses of organisations linked to waterfowl are provided, as well as suggestions for places to visit in the UK to observe waterfowl in the wild. For those who have a desire to keep waterfowl, there is some basic guidance on the breeds available and essential details on management and possible illnesses that are relevant to domestic waterfowl.
Those With Webbed Feet is a good starting point for those with little or no prior knowledge of waterfowl either in the wild or in domestic collections. The material provided is informative and relevant throughout, and offers the reader a good basic understanding of the habits and habitats of waterfowl to be found in the UK.
Dr Alan Woollhead