Deep Thinkers: An exploration of intelligence in whales, dolphins, and porpoises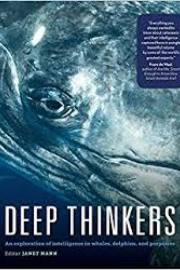 Janet Mann (ed)
Ivy Press, £20.00
In 2011, the Edge Foundation's annual question was 'What scientific concept would improve everybody's cognitive toolkit?' Well-known neuroscientist David Eagleman answered with Jakob von Uexküll's idea of the umwelt. As Eagleman noted, this expressed the often-overlooked observation that "different animals in the same ecosystem pick up different environmental signals". He concluded his short essay by noting that this concept is useful because it "neatly captures the idea of limited knowledge, of unobtainable information, and of unimagined possibilities".
If, like me, you are an avid watcher of TV programmes about whales, dolphins and porpoises, and wonder what is going on in the heads of these fellow mammals during their complex behaviour, Deep Thinkers has to be on your reading list. With excellent illustrations and chapters by acknowledged experts, this book gives an overview of the history and current state of research on the minds of cetaceans.
The odontocetes (toothed whales) and the mysticetes (baleen whales) diverged some 39 million years ago and each have species with different social and life histories. We have understood much about them in the last half century, but there is still much of their umwelt that is, and may remain, beyond us. Buy the book – it is a wonderful read.
Malcolm Dando FRSB