Yeti: The Ecology of a Mystery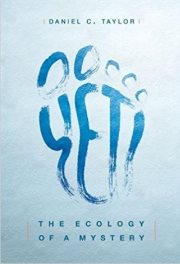 Daniel C Taylor
OUP, £32.99
Much of this work is not actually about the yeti, but that is no reason to avoid reading it. Daniel Taylor is an eminent conservationist and expert in social change, and the combination of these two disciplines has been a powerful force in preserving the ecology of the Himalayas. Taylor spent his childhood in the region, developing a deep understanding of the prevailing culture, and this led to a fundamentally different approach to conservation.
Do not expect the text to be chronological. Successive chapters are set in different periods and not in any particular order. Somehow this seems to work, as the reader gains an understanding of what drives the writer. There is considerable detail of daily life in the field, especially relationships with local people recruited to the cause of preserving this unique environment. This encapsulates Taylor's approach, which is that conservation works when it is in the interests of the people. Nevertheless, funding is essential and his negotiation skills won support from the king of Nepal with whom he developed a close working relationship.
But the yeti is never far away. Some field expeditions are focused on the search for the creature, while conservation surveys proceed alongside; others are the other way round. Taylor provides an object lesson in critical thinking, always asking questions like "what could have caused these footprints, and how?" I imagine most biologists will know the answer, but I won't spoil the story for others.
The writing style is engaging, with heavy use of the present tense, which seems to make the narrative more immersive.I was left with a strong feeling that conservation is all about people and that the deepest possible understanding of their lives is vital.
Les Rose CBiol FRSB