Pollination Services To Agriculture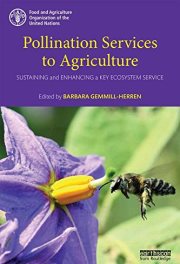 Barbara Gemmill-Herren (Ed)
Food and Agriculture Organization of the United Nations with Routledge, £37.99
Successful pollination of crop plants is vital in producing adequate food for the world's population. Yet an understanding of how this is achieved has been, until now, somewhat rudimentary. A variety of factors that have adversely affected bee populations in recent times have highlighted our poor understanding of pollinators and pollination.
Pollination Services to Agriculture charts the progress that has been made recently by both national and international bodies in addressing some of the questions about crop production and adequate pollination.
The book is well laid out, with a useful summary of each section in the preface. It is very much aimed at academics, but may have a wider audience than first thought.
Anyone involved in land management, agriculture, biodiversity or ecology would find this text useful and interesting. In addition, some of the websites cited, such as the Discover Life and the Global Biodiversity Facility, would be of interest to a wide range of biologists. A slight downside is the extensive use of acronyms for international organisations in this field and a glossary would have been helpful.
The importance of wild bees and other insect pollinators is emphasised throughout. It may often be better to conserve some areas as natural vegetation to increase insect biodiversity rather than clear them to increase space for crops. Mention was made of the use of Twitter and Facebook to engage younger audiences in the importance of bees and other insects to agriculture. Altogether, an interesting work.
Leighton Dann