Cures vs Profits: Success in Translational Research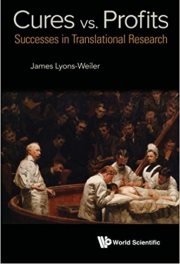 James Lyons-Weiler
World Scientific Publishing
£18.00
In an era when funding for research is tight and public accountability is paramount, applied research is central to universities' strategic thinking. No longer do academics work in ivory towers; instead, they are rightly required to 'translate' their research findings from science into tangible benefits to society.
When applied to medicine, translational research is a highly interdisciplinary field and combines expertise, resources and techniques to achieve advances in diagnosis, treatment and prevention of disease. This is the notion of 'bench to bedside' research – a pathway that is laudable in concept, but encounters hurdles in reality.
Some of the notable successes and failures in the short history of translational clinical research are collected together in this enjoyable book. The subjects reflect our rapidly growing knowledge of cell and organismal biology, and of disease processes following the sequencing of the genome of both the human being and of major pathogens.
There are 15 chapters, including those covering blood pressure therapy, dietary supplements, faecal transplantation, overdiagnosis of behavioural disorders, vaccine safety, chemotherapy and robotic surgery.
Concluding chapters discuss more speculatively what the future holds in terms of targeted cancer vaccines and the early detection and cure of Alzheimer's disease. Lyons-Weiler is to be commended for providing an accessible and balanced view on ethical considerations, commercial drivers and political motives surrounding public health issues that are frequently emotive to the layperson, leaving the reader to form their own opinion.
Professor Andrew Taylor-Robinson CBiol FRSB