It's All In Your Head (Winner, General Book Prize)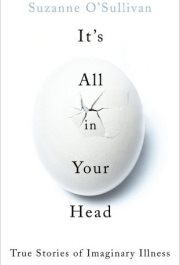 Suzanne O'Sullivan
Chatto & Windus, £16.99
Written by a consultant neurologist, this book explores the phenomenon of psychosomatic illness. Dr O'Sullivan describes a series of real but anonymised patients who present with genuine clinical features – convulsions, paralysis, pain, loss of vision – for which no physical causes can be found.
Dr O'Sullivan describes psychosomatic disorders as "physical symptoms that mask emotional distress", contending that in many cases such conditions have an emotional basis, often related to a stressful past event. However, the causative link between such events and their often bizarre results remains obscure. Conventional treatments for these conditions are of little help, but convincing patients that they might benefit from referral to a psychiatrist often meets with a hostile reaction.
Psychosomatic disorders are common, yet they are poorly represented in most conventional medical training programmes. Dr O'Sullivan's readable, compassionate and enlightening book reminds us that, even in the early years of the 21st century, medicine remains an art as much as a science.
Dr William Marshall CBiol FRSB