Hawthorn: The Tree That Has Nourished, Healed and Inspired Through the Ages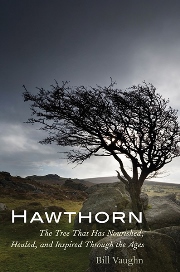 Bill Vaughn
Yale University Press, £17.99
This is not a scientific treatise about hawthorn, but it is a good read about the folklore and ethnobotany around the genus Crataegus, with many diversions from the main topic, such as the author's life in Montana. The presence of C. douglasii on his property led him to many other places to research hawthorns and their history around the world.
The topics vary from Celtic folklore, the Glastonbury thorn, the tejocote fruit of C. mexicana to testing wood for hardness. Hawthorn has had many folk superstitions attached to it and is also known in folk medicine and for its edible fruit. The chapter on hedging with hawthorn in many places is interesting and well researched. There is also a great deal on natural history, especially about birds, scattered throughout the text.
The important scientific aspect of the apomictic breeding system of the genus Crataegus and the resultant taxonomic confusion is well handled here, and the excessive splitting of the genus into more than a thousand species by Charles Sprague Sargent is discussed. One is left with no doubt about the importance and influence of the hawthorn on many cultures throughout the ages.
Professor Sir Ghillean Prance FRSB