Candid Creatures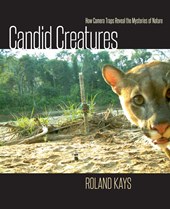 Roland Kays
Johns Hopkins University Press, £26.00
The content and style of Candid Creatures is summarised neatly in the cover's subtitle: 'How camera traps reveal the mysteries of nature'. Camera traps capture images, not animals, of course, and the digital revolution has enabled camera traps to become cheaper and much more widely used – so much so that their use to monitor garden wildlife is becoming mainstream.
As you would expect, Candid Creatures is rich in photographs. The content begins with an overview of the history and uses of camera traps.
This is followed by a species-by-species account covering more than 70 of the world's mammals, supported by camera trap images (as well as a token bird and a token fish).
The book then provides a more community and geographically centred series of examples, with indications of how camera traps have helped to understand them.
The book concludes with coverage of a series of thematic studies that have benefited from the use of camera traps. This last section includes many genuinely 'candid' images where the behaviour of the animals comes to life.
I am not sure of the target audience for Candid Creatures. Professional ecologists are likely to find it rather superficial, and while the book is visually pleasing, camera trap images do tend to be useful rather than pretty. Having said that, the coverage of rare and rarely seen species is impressive and the book could be an inspirational gift for anyone interested in natural history – especially if given together with a camera trap.
Dr S G Compton