Spatial Analysis: A Guide for Ecologists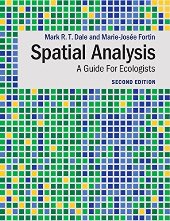 Mark R T Dale and Marie-Josée Fortin
Cambridge University Press, £45.00
Knowledge of spatial analysis is a must-have for any ecologist nowadays, but keeping up to date with such a rapidly developing field is not an easy task. Fortunately, Mark Dale and Marie-Josée Fortin are here to make this task simpler with their latest edition of Spatial Analysis: A Guide for Ecologists.
Over its 12 chapters, the book provides an overview of the interaction between spatial and ecological processes, as well as a broad description of the methods available for the analysis of spatial patterns in ecological data. It presents in detail core concepts and methods of spatial analysis, but it manages to do so without losing the reader with too much theoretical and mathematical background.
To facilitate the process of assimilating the information provided, visually appealing figures accompany the text in each chapter. In fact, it is the combination of a clear description of concepts and simple but explicit visual aids that really make this book shine.
You should look elsewhere for more practical or technical instructions on how to carry out spatial analysis. However, if you are looking to understand the need for spatial analysis in ecology and are uncertain how to perform and interpret the results, then look no further than this excellent book.
Overall, Spatial Analysis: A Guide for Ecologists is every bit the reference book it was crafted to be, and will be a useful reference for students, researchers and practitioners with all levels of experience.
Dr Ricardo A Correia