Birds of Madagascar and the Indian Ocean Islands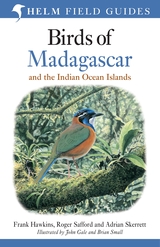 Frank Hawkins, Roger Safford and Adrian Skerrett
Bloomsbury: Christopher Helm, £30.00
The aim of this book is "to enable observers to identify every bird that they might reasonably expect to see in the tropical south-western Indian Ocean".
This has been achieved with distinction. The 336-page book is a comprehensive compendium regarding all avian matters of the region and will be an essential resource for all visitors to any of the islands.
Birds of Madagascar and the Indian Ocean Islands follows on from the 2013 The Birds of Africa Vol. 8. The 488 species are all illustrated in colour, some for the first time, showing significant variations in subspecies, morphs and plumages. Species accounts include identifications, voice, status, habitat, habits and range.
Endemicity is the main feature of the area and not only is there a long discourse on endemics (185 species present and 58 species mostly lost since man arrived), but there is a comprehensive section covering the geography, climate and habitats for each area, complete with maps and photographs of salient habitats.
An e-book edition is available (not reviewed here), but one wonders how the intricacies of the book version (that is, charts, tables and 124 plates) can be flicked through in the field to find an immediate identification. There is no doubt that this is a significant work and an indispensable guide for visitors – it is small enough to fit in all jackets and to survive the wet landings on some of the islands.
Dr John Feltwell CBiol FRSB