Fire on Earth: An Introduction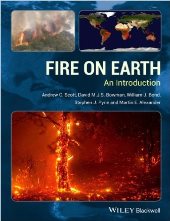 Andrew Scott et al
Wiley Blackwell, £39.95
Fire is a major factor in the dynamics of many ecosystems. Its incidence, regularity and intensity are influential in determining the biotic components and their adaptations, as well as in biogeochemical cycling. Given the uncertainty surrounding the effects of global warming on fire occurrence and the relationship with the carbon cycle, a book examining the role of fire on Earth is timely.
There are four parts, each with four or five chapters. Part one opens with an examination of the nature of fire: how it begins, fire types, the impact on vegetation and products of fire, the relationships with erosion/deposition and climate, how fire is monitored (notably satellite imagery), and scales of occurrence. It examines the historical and geological record, with much detail on charcoal occurrence and the reconstruction of fire histories. The latter are the subject of the next three chapters: 420 million years of fire history, plus a specific chapter on the Quaternary Period.
Part two focuses on the biology of fire, with chapters on pyrogeography (patterns of fire in time and space), and fire in relation to plants, fauna, ecosystem processes and human induced environmental change. The latter is re-emphasised in part three: fire history and human history are intertwined and have contributed to defining the Anthropocene (not yet formally demarcated, but considered here to have opened with industrialisation).
A further topic is fire management. Part four deals with wildland fire occurrence and its management. Practical issues such as monitoring, measuring and quantifying are considered, along with predicting, suppressing and controlling wildfires.
Each part has an extensive reference list reflecting the worldwide significance of wildfire and varied scientific approaches: tables, diagrams and colour photographs are abundant, and there is a welcome companion website with a host of useful teaching/demonstration material. This improves the value of this multidisciplinary book, which should appeal to teachers, students and researchers.
Dr A M Mannion