Human Biology (14th edition)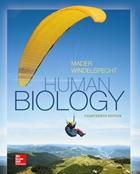 Sylvia S Mader and Michael Windelspecht
McGraw-Hill Education, £52.99
This book explains the field of human biology with great clarity, supported by a good range of media study tools the reader can dip into online to support their learning.
There are also 'assess' and 'engage' sections at the end of each chapter to allow students to test their knowledge and understanding.
A highlight of the book is the inclusion of some refreshing whole organism biology exploring a much wider range of examples than often depressingly narrow exam specifications allow.
Dr Clare Miller CBiol MRSB
Shortlisted in the Undergraduate Textbook Prize category of the Royal Society of Biology Book Awards 2015