The Vital Question: Why is life the way it is?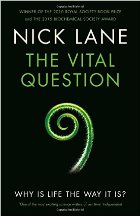 Nick Lane
Profile Books, £25.00
Determining the mechanism of inheritance has played centre stage in the study of evolution, but no biological process can take place without energy to power it. Nick Lane shows how the development of energy harvesting processes was likely central to the creation of life, and develops a convincing theory that it arose in the vicinity of the hydrothermal vents on the deep ocean floor.
He shows how mitochondria were key to the development of the eukaryotic cell and the subsequent development of complex life forms, and considers the likelihood that this was a unique event.
The general reader may struggle with some of the biochemistry, but that should not detract from an overall appreciation of this stimulating and absorbing book.
Dr William Marshall CBiol FRSB
Highly Commended: General Book Prize in Royal Society of Biology Book Awards 2015