Being Mortal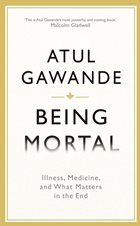 Atul Gawande
Profile Books, £15.99
Every so often a book comes along that changes the way one views life and, in this case, the end of life. No one will be able to read Being Mortal without being affected.
Modern medicine has increased life expectancy, but at what cost to the individual? By combining professional and personal experience, Being Mortal tackles this most sensitive topic in an engaging way that leaves the reader contemplating how best to prepare for a good death.
My fellow judge Connie St Louis felt that it "dispels myths and clearly addresses the challenges that society must wrestle. It has been instrumental in encouraging me to discuss and articulate the narrative of my life's end with my family".
Dr William Marshall CBiol FRSB
Winner: General Book Prize in Royal Society of Biology Book Awards 2015