Quantum Effects in Biology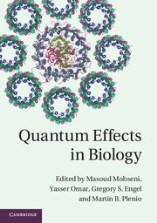 Masood Mohseni (Ed), Yasser Omar, Gregory S Engel and Martin B Plenio
Cambridge University Press, £80.00
Having previously thoroughly enjoyed reading two books relating to quantum biology, I was delighted to review this book. Alas, my excitement was quickly curtailed due to the number of complex mathematical equations within.
While I acknowledge the authors are physicists and biophysicists, I can see no justification in aiming such an important book at biologists, who, in general, are not so well versed in advanced maths. The two books that first captured my interest, written by biologists and a theoretical physicist respectively, emphasised explanation using words, with minimal maths.
I persevered and gleaned some knowledge of electron transfer in proteins, a chemical compass for bird navigation and quantum effects in bacterial photosynthetic energy transfer.
I found some evidence of poor editing in their use of units of measurement, and some of the illustrations are so small and squashed as to be useless.
My reservations aside, I recognise the importance of understanding quantum effects. However, the use of complex maths needs to be more judicious in order to engage a wider audience.
Dr Stephen Hoskins CBiol FRSB