The Natural History of the Crustacea – Volume 3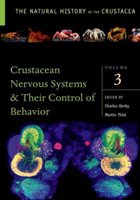 Edited by Charles Derby and Martin Thiel
Oxford University Press, £115.00
Over the last 50 years, several collections of essays by specialists have demonstrated how studying carefully selected crustacean systems can advance our knowledge of the control of behaviour. The 20 wide ranging and endlessly interesting chapters in Nervous Systems & Control of Behavior underline that point. Moreover, the standard format of the chapters is very helpful for the reader.
A general introduction to the topic is followed by the main text describing our current knowledge and understanding, followed by a summary and discussion of the key unanswered questions and potential lines of new research.
Given the huge diversity of the Crustacea and the habitats in which they live, the editors suggest that one theme of research has the aim of understanding the various evolutionary adaptations within the group. Therefore, one chapter deals with the types of crustacean brain form and function, and others with the different sensory systems, including, in some species, the ability to detect the Earth's magnetic field.
A second major objective of research has been to study the crustacean nervous system and its components as models to help us explore more complex nervous systems. As a result, there is a chapter on the stomatogastric nervous system of decapods and another on the modulation of such crustacean systems, which together give a wonderful insight into the complexity of chemical modulation of neuronal networks.
This excellent book will surely be a major resource for research scientists and students for many years to come.
Malcolm Dando CBiol FSB