The Best American Science and Nature Writing 2014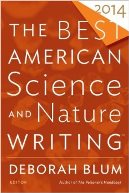 Edited by Deborah Blum
Mariner Books, £9.99
Since 2000, this annual anthology has highlighted the best popular science articles from American magazines. This year's selection is chosen by Pulitzer-prize winning journalist and professor of science journalism Deborah Blum, and includes pieces from The New York Times, National Geographic, Scientific American and The New Yorker, as well as content from less well-known websites such as Matter and Nautilus.
Initially it seems quite strange to pay for a book full of old magazine articles, especially if you are a regular reader of some of the publications and websites mentioned above. Yet a few pieces in and it becomes clear why you would want these articles in a collection on your shelf: each is insightful and fascinating, and the best are like absorbing short stories. Moreover, they are long – probably too long to enjoy properly if you were to read them online.
Blum has selected articles that have intriguing human stories running parallel to important scientific developments – Virginia Hughes' piece about DNA testing kits, for example, is neatly entwined with one woman's quest to unravel her dramatic family history. Over the course of two dozen articles, the book covers a hugely diverse range of topics, including genetics and biotechnology, antimicrobial resistance, human psychology, animal behaviour, climate change and biodiversity loss.
Highlights include 'The Great Forgetting' by Nicholas Carr, which explores how automated technology may be eroding our ability to react to events and deploy our skills; and 'A Race to Save the Orange' by Amy Harmon, which follows one farmer's battle to create a disease-resistant orange before his 2.5 million orange trees, alongside Florida's $9bn juice industry, are all destroyed.
At under a tenner, this book is excellent value. Rather than strain my eyes online, hopefully I can read the best science stories of 2015 from the next book in this series.
Tom Ireland MSB