The Carcinogenicity of Metals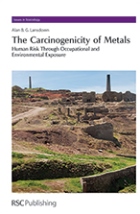 Alan B G Lansdown
RSC Publishing, £159.99
This book came along at just the right time for me: I was in the middle of writing a research paper on arsenic in soil and needed an authoritative reference on the subject, which is just what I found in this book. In fact, I could have been researching almost any metal or metalloid and it would have been useful.
The Carcinogenicity of Metals is a comprehensive and detailed overview of metal/metalloid toxicity and the risks of occupational or environmental exposure to such substances. It is written by an author who is clearly extremely knowledgeable about the subject matter.
Some of the metals, such as iron, zinc and lead, have chapters to themselves, others such as cadmium and mercury, and cobalt and nickel, are grouped together. In either case, the book describes the most up-to-date research on the area in a clear and accessible way.
Carcinogenicity is the linking theme and the author does a good job of summarising the many complex ways metals may cause this effect in living systems. For example, some elements may act on nucleic acids and/or affect gene expression, while others may cause oxidative stress, lipid peroxidation or changes in signal transduction.
The book may be a little too specialised for undergraduate courses, but would be an excellent text for anybody interested in metals in toxicology and related occupational health and/or medicine at the graduate level and above.
Dr Oliver Jones CBiol MSB