In Search of Lost Frogs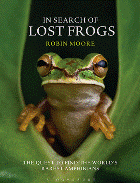 Robin Moore
Bloomsbury, £25.00
Robin Moore is more than qualified to write a book about the conservation of amphibians, but it is his passion for this under appreciated class of animals that shines through in this compelling book.
In Search of Lost Frogs gives the history of amphibian extinctions over the past century and how this led to a campaign that focused on searching for some of the lost species. The stories of the many research trips, including several Moore was part of, are accompanied by stunning macro photographs of the amphibians found along the way.
The first part of the book seems a little disorganised, jumping between different scientists and areas where species were going extinct. However, the second part, which describes the research trips, is captivating. The accounts of the expeditions, which are better described as adventures, are full of personal difficulties and lifelong enthusiasms, as well as scientific background and techniques used in the research.
Moore's storytelling skills paint beautiful pictures of the many places he visits, giving the relevant historical, environmental, geographical and even political background so readers are fully immersed in each expedition.
In Search of Lost Frogs is a must-have addition to any bookshelf. After reading it, I fully expect everyone to visit the end of their gardens in search of less rare, but no less interesting, species of frogs due to Moore's contagious enthusiasm.
Fiona Evans AMSB