Seeds of Amazonian Plants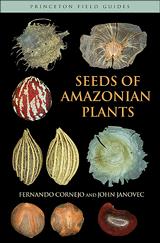 Fernando Cornejo and John Janovec
Princetown University Press, £24.95
The first seed guide for Amazonian rainforests written by field leaders. Both authors have worked intensively for years using several grants to complete this project, with one author collecting seeds for the past two decades. The outcome is a ground breaking and authoritative resource of priceless value in relation to biodiversity and South American rainforests. A highlight is the short and easy to use key with links to excellent photographs of seeds identifying to Genus level.
Seeds of Amazonian Plants begins with a back drop to understanding what we face in losing rainforest diversity: 300 species of trees in just 600 trunks, and diversity centred on seed dispersal hundreds of metres away from the parent tree. This so called long 'seed shadow' is what makes the rainforest so diverse and the job of scientists so complex.
This publication is a massive achievement and historical milestone. Field identification of Amazon rainforest trees has only been scientifically respected for around twenty years since the work of the botanist Alwyn Gentry. Previous identification was done with leaves and flowers of herbarium specimens. Many South American Genera in the book are still only represented online with pictures of pressed leaves e.g. Pausandra (Euphorbiaceae), Crudia (Fabaceae) and Matayba (Sapindaceae).
The aid to identifying Amazonian seeds is a practical, simple and well-structured key composed of very few words. The first division is 'wings or hairs', indicating wind dispersal. Most seeds are not in that group and further categorisation is size, striations, shape, colour, and glossiness. The photographs are almost all in colour and it is helpful that variation is shown by frequently depicting two or even three seeds. The 750 photographs cover more than 500 genera in around 130 families.
A stunning work, this is a must have for anyone interested in the Amazon from botanist and ecologist to zoologists working on seeds in dung. As eminent tropical ecologist John Terborgh indicated in the Foreword – this book "opens a window onto a new...realm of forest biology".
Sue McBean MSB