Bloom: From Food to Fuel, How the Epic Story of Algae can Save Our World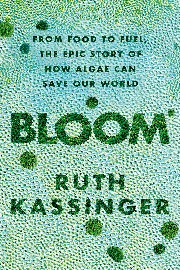 Ruth Kassinger
Elliot and Thompson Ltd, £16.99
Capturing energy from sunlight is vital for all life on Earth. The world's algae are quite probably responsible for capturing more energy than flowering plants, yet their role is often unappreciated and ignored.
Ruth Kassinger remedies this ignorance with an approachable, well-written and easy to understand account of the biological and commercial importance of algae. This umbrella term embraces a huge range of organisms from photosynthetic bacteria, microalgae and phytoplankton to macroalgae and seaweeds and those that on land unite with fungi to form lichens.
Kassinger divides her account into four sections: In the Beginning, Glorious Food, Practical Matters, and Algae and the Changing Climate, with each split again into six to eight chapters. She explores the role of algae in Earth's history and the initiation of land colonisation, their use as foodstuffs and commercial applications, and rounds off with an account of their importance for the mitigation of climate change.
Only a very experienced journalist could have attempted and succeeded in producing such a comprehensive and readable text. This book brings science to a general audience and will also prove useful as a teaching aid for early-stage learners in biology and its applications.
Professor Geoffrey R Dixon FRSB