The End of Epidemics: The Looming Threat to Humanity and How to Stop It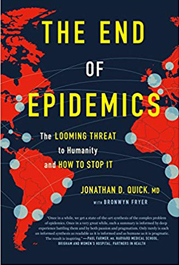 Jonathan D Quick and Bronwyn Fryer
Scribe Publications, £14.99
As another Ebola outbreak hits the Democratic Republic of the Congo, the world is reminded that we are never far from the next epidemic. The battle against infectious disease is far from – and probably never will be – won. The 2014 Ebola epidemic in Sierra Leone, Guinea and Liberia was terrifying but, it might be said, was fairly small and contained compared with the 1918 influenza pandemic that killed 50 million people.
The End of Epidemics is a substantial, well-structured and comprehensively referenced text, although it may have only limited value as an undergraduate or reference text. However, it will be hugely valuable to anyone with an interest in any aspect of healthcare and infectious diseases, from public health and epidemiology to prevention, containment and treatment, as well as to ecologists and environmentalists.
The authors list seven sets of key actions needed to prevent and to cope with epidemics: bold leadership; developing and maintaining resilient health systems for all; strengthening key lines of defence against disease to prevent, detect and respond; timely and accurate communication; investment in innovation; investment in prevention before the next epidemic strikes; and citizen activism.
There are salutary reminders of the critically far-ranging impact of global epidemic infectious diseases – described as the 'epidemic cascade' – including the wider healthcare consequences and the social, business and economic impacts of epidemics. If still unconvinced, the authors remind us of the economic cost of recent epidemics and pandemics – £3.77bn for BSE and £7.5–£11bn for foot-and-mouth disease in the UK; £22–£38bn in east Asia for SARS; and globally even more for the H5N1 and H1N1 influenza epidemics – to say nothing of the personal loss and distress, pain and suffering they wrought.
The book contains more than its cover might suggest, with technical information and examples that provide a sound foundation and the building blocks for further study. It offers well-informed analyses of existing and projected medical dangers and presents a well-thought-out programme for averting catastrophic loss of life across the planet.
The book's subtitle, 'The Looming Threat to Humanity and How to Stop It', is an optimistic but in all probability unrealistic expectation, though we must hope that enough lessons can be learned to reduce the impact of epidemics in the future.
Ian Blenkharn FRSB