Why Only Us: Language and Evolution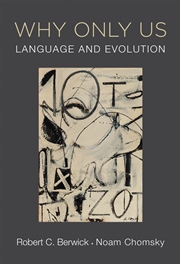 Robert C Berwick and Noam Chomsky
The MIT Press
£17.95
While most people agree that only humans have language, that assumes we know what language is. The potential for circular argument is obvious. Berwick and Chomsky provide some fascinating insights into unravelling this conundrum, from the complementary standpoints of computer science and linguistics respectively.
One such insight, they claim, is that language comprises three components: the internal process of thinking, the externalisation of thought by speaking or writing (we don't think in words) and the understanding of speech and writing.
We appear to be the only animal that communicates using a hierarchical syntax. The authors see this as a pivotal step in the emergence of human language, which from available evidence (genetic and archeological) might be placed before 80,000 years ago. With what neurological factors could such a facility be associated? Pathways between the vocal motor cortex and brainstem vocal motor neurons have been demonstrated in both zebra finches and in humans (which are vocal learners), but not in chickens or macaques (which are not).
The evidence for genetic factors associated with language are discussed at length. For most biologists this material will not be hard to follow, but the sections on computer linguistics will be much less familiar. The text is refreshingly free of footnotes, but the endnotes are mostly very long. I would prefer to see an endnote of more than a page in the main text. It's also ironic that these linguistics authors forgot the title's question mark!
Les Rose CBiol FRSB