Nests, Eggs, & Incubation: New ideas about avian reproduction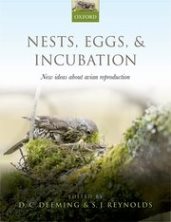 D C Deeming and S J Reynolds (Eds)
Oxford University Press, £65.00
This is a very professionally produced book, a late sequel to Deeming's 2002 Avian Incubation, Behaviour, Environment and Evolution, which had papers (mostly his own) that defined the topic. It is dedicated to Amos Ar, and has a short foreword by Tim Birkhead.
This new book has updated many of the subjects, but without changing minds very much – our prejudices are confirmed rather than challenged. So the subtitle 'New ideas...' isn't really justified. Nevertheless, this is a very good overview of its subjects. Several papers on artificial incubation, together with ones on the natural physiology, illuminate surprisingly; precocial/altricial chicks are well described (as is to be expected from Deeming's early work on ratite eggs and chicks). However, there is little on fledging, as it's so hard to study, and there is less than I'd hoped on the derivation of birds from dinosaurs and not enough on feathers!
Brilliantly, possession of this book gives you online access to the previous volume for free, so it (and its predecessor) are a perfect introduction to the subject for hobbyists, professionals and academics.
Jack Cohen FRSB