The Fantastic Laboratory of Dr Weigl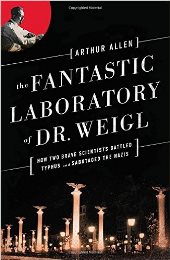 Arthur Allen
WW Norton, £16.99
During the Eastern Front campaign of World War II, both German and Russian armies, as well as millions of oppressed civilians, were afflicted by typhus – an appalling disease caused by the bacterium Rickettsia prowazekii and transmitted in the faeces of body lice. Nowadays, typhus can be treated by a standard dose of an antibiotic such as doxycycline, but 70 years ago chemotherapy was in its infancy, so this disease of poverty was much feared.
The Third Reich was desperate for an efficacious treatment for its troops and sought out microbiologists and immunologists to work on a top-secret project. Based on extensive historical research and eye witness interviews with survivors, Arthur Allen tells the true story of two biomedical scientists, Rudolf Weigl and Ludwik Fleck.
While working ostensibly for the Wehrmacht to provide a vaccine against typhus, they acted to both undermine the Nazi regime and to bring an element of relief to oppressed and destitute civilians. This subterfuge was achieved, under duress, by raising an efficacious antiserum in afflicted concentration camp prisoners, who were used as human guinea pigs in immunisation trials.
Heroically, it may be argued, moral conscience was then put before scientific ideals. Hence, full-strength doses were smuggled illegally into Polish ghettos while a weakened, less-effective version of the vaccine was shipped to the German military on the front line.
The Fantastic History of Dr Weigl is a fascinating and sobering read, a mix of political and military history, ethics, biography and bacteriology.
Professor Andrew Taylor-Robinson CBiol FRSB