Ecosystem Services: From Concept to Practice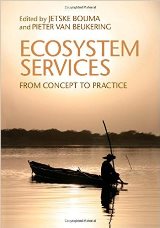 Jetske Bouma and Pieter Van Beukering (Eds)
Cambridge University Press, £40.00
Ecosystem services – what are they? Is it a way of quantifying the unquantifiable? How can you put a monetary value on coral reefs? For many ecologists and biologists, these are important questions to address if you are trying to influence environmental policy anywhere in the world.
This concise book is a collection of essays and is an excellent introduction to the field. The editors and the majority of the authors of Ecosystem Services are from the Institute for Environmental Studies, VU University, Amsterdam, the Netherlands.
Each of the 12 chapters has an introductory box of learning objectives, boxes with specific examples illustrating concepts and methodologies, and a number of discussion questions at the end.
After an introduction defining ecosystem services, nature capital, economic development and livelihoods, there are four sections describing measuring, valuing, paying for and governing ecosystem services.
Particularly valuable are the chapters on the role of biodiversity in ecosystem service provision, economic values and valuation methods of ecosystem services, trade-offs and decision-support tools, payments and global governance.
If the reader wants more depth about particular topics, each chapter has a good list of references.
The book is a delightful read and is very coherent. It will be of considerable value to conservationists, students, teachers and policy developers throughout the world.
Professor M J C Crabbe CBiol FRSB