Freshwater Algae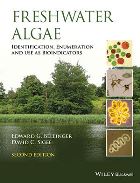 Edward G Bellinger and David C Sigee
Wiley-Blackwell, £65.00
As the authors say, freshwater algae have delighted biologists with their range of shapes and beauty for a long time.
Now biologists, professional and amateur, can take delight in Edward Bellinger and David Sigee's updated edition.
A comprehensive overview is followed by what is virtually a practical manual on sampling, biomass estimation and counts of planktonic and non-planktonic algae.
A third section discusses algae as bioindicators in lakes, wetlands, rivers and estuaries, with the final section, making up around half of the book, providing a key to the more frequently occurring species. In effect, this is four books in one, brilliantly packaged into fewer than 300 pages.
Dr Sue Howarth CBiol FRSB
Shortlisted in the Postgraduate Textbook Prize category of the Royal Society of Biology Book Awards 2015