A Column of Smoke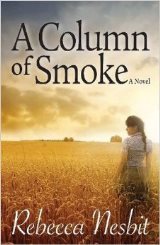 Rebecca Nesbit
Brambleby Books, £8.99
A Column of Smoke weaves together a fictional story about love and relationships with a topical scientific dilemma. We follow Sally, a young postdoctoral researcher who has to make some difficult decisions in both her work and personal life. She is part of a team of scientists investigating genetically modified crops and when, due to unforeseen circumstances, their field trial is cut short, it could mean all they have been working towards has been lost. The question is, what is the right thing to do, and will Sally do it?
I enjoyed A Column of Smoke. You feel for Sally as she finds herself in a sort of no-man's land in an awkward state of indecision in both her relationships and her scientific career. The characters are well thought out and have a depth that emerges throughout the novel as you learn more about them. The science permeates the book and gives a good backdrop for the story as it unfolds; showing the excitement of cutting edge research, but also the mundaneness of the repetitive procedures scientists must go through when collecting their data.
The author, entomologist and former Society press officer Rebecca Nesbit, writes in this issue how she hopes more scientists will try writing fiction as a way of bringing fresh perspectives on science to the general public. I hope they do too.
Sarah Cox CSciTeach MSB