Urban Ecology: Science of Cities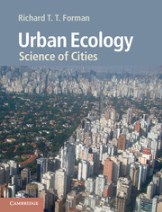 Richard T T Forman
Cambridge University Press
All the judges on this year's Best Postgraduate Textbook panel had this book high on their list of favourites. Its extensive scope and interdisciplinary approach puts it into the same class as 2013's winner of the Best Postgraduate Textbook Award, Landslide Ecology (Walker and Shiels), also about ecology and published by CUP.
Perhaps the black and white diagrams and photographs could have been larger. Perhaps there could have been a little more biology. Perhaps it would have been helpful to have an index of the cities mentioned in the text. However, these are minor points.
Overall, Richard Forman, professor of landscape ecology at Harvard University, has produced an authoritative, comprehensive and extensive reference work that will be a valuable resource for urban designers and planners, ecologists and analysts.
Dr Sue Howarth CBiol FSB
Shortlisted in the Postgraduate Textbook category of the Society of Biology Book Awards 2014