The DNA Detectives: The Stone Age Mystery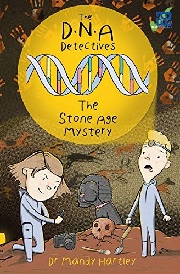 Dr Mandy Hartley
The Little Story Telling Company, £6.99
Children (well, my children!) can be very picky about what books they read or have read to them. If the story or characters aren´t interesting enough they will quickly turn off. Luckily, this was not a problem with the latest instalment of the 'DNA detectives', Mandy Hartley's fantastic series focused on the adventures of two siblings who use their mum's genetics lab to solve a wide variety of mysteries.
This time the children are in a race against time to find out who had stolen paelaeolithic artefacts from a newly discovered cave underneath their school. This set up allows Hartley to introduce her readers to the ancient DNA revolution that is transforming knowledge of human history. The story rattles along at breakneck pace, providing just the right balance of science, adventure and vivid characters to keep younger readers engaged.
The list of weblinks at the end of the book is also excellent, providing some great content for children and parents who want to build on the story's foundations. On the strength of the book my girls (eight and five) have become keen amateur archaeologists, and their bedroom is now full of old bits of pots and other 'artefacts' of unknown provenance.
In short, this is another excellent addition to an inspiring and extremely timely series of children's books. Science (and archaeology) has never seemed so exciting!
Click here for a review of the DNA Detectives podcast, hosted by author of the series Mandy Hartley.
Ana Malhado