Policy profile: Karendeep Sidhu MRSB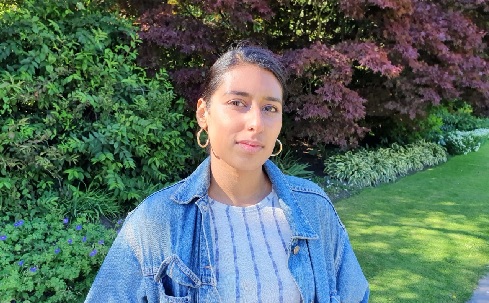 The RSB's current policy intern on connecting science to society
May 27th 2022
What made you apply for a policy internship at the Society?
I'm currently doing a PhD on the role of sexual selection in adaptation to climate change. I studied anthropology, and then ecology and evolutionary biology, so I'm fascinated by variation in life, people and cultures, and sociology and politics. It seemed to me that the linchpin to translating what we do in the laboratory into actions that actually affect how people live their lives, or the way we protect the environment, is policy.
What have you been doing during your internship?
I've done a really broad range of things, from synthesising and collating information to public outreach and science writing, as well as more formal policy work. I'm helping organise the Policy Lates event on tackling inequity in clinical research for later this year, working on the RSB's response to the consultation on the future of research assessment, and I'm writing about decolonisation for The Biologist. I've also been surveying what other Member Organisations are doing for the growing number of 'awareness days' in the calendar and looking at how the Society can gather all its resources on genetic technologies in one easily accessible place online.
What will you take from your internship and what do you plan to do next?
I think the variety is what I've really enjoyed. I can also now say I know what policy work actually is – how scientific outputs are translated into something that can be used by people who perhaps aren't from those fields to inform decisions about society. After my PhD I'm not really sure what I will do, but it is good to know that if I don't pursue a career in academia or research, then other doors are open to me.