My Lab Unlocked: Professor Nigel Halford FRSB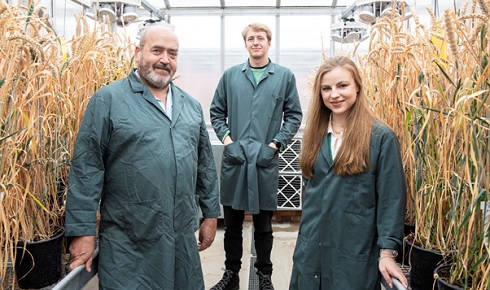 Above: Nigel Halford FRSB (left) with Joe Oddy and Sarah Raffan.
Professor Nigel Halford FRSB talks about his lab's research on toxins found in products made from wheat, and how CRISPR can make food crops like wheat safer.
December 13th 2021
My team is a small one, comprising post-doc Sarah Raffan and PhD student Joe Oddy, but we make full use of the support available at Rothamsted, from wheat transformation through to GM field trial capability, bioinformatics and statistical analyses.
Our aim is to reduce the potential for acrylamide formation in products made from wheat. Acrylamide is a carcinogenic processing contaminant that forms in fried, baked, roasted and toasted foods made from grains, tubers, storage roots and beans. Food businesses have to comply with increasingly difficult regulations on its presence in their products. Right now, the EU is in the process of setting maximum allowable levels for acrylamide in food, and that could have serious repercussions for the food supply chain.
One challenge of this research involves the famous Maillard reaction. This is a complex series of non-enzymatic reactions between free amino acids and reducing sugars, and as well as acrylamide, which generates the signature colours, flavours and aromas that consumers expect in fried, baked and roasted products. Reducing acrylamide-forming potential without affecting product quality is, therefore, a major challenge.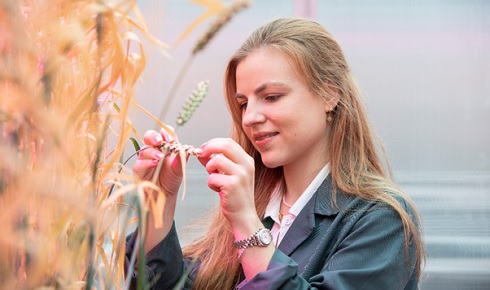 Lab member Sarah Raffan examining low asparagine CRISPR wheat
Free (non-protein) asparagine is the principal precursor for acrylamide. One of the genes encoding asparagine synthetase in wheat, TaASN2, has become our main genetic target because of its high grain-specific expression. Our best CRISPR lines show reductions of 70–90 % in free asparagine concentration in the grain and we have applied to DEFRA for a licence to carry out field trials of these lines, which could start this year. Developing optimal crop management to keep free asparagine as low as possible is also an important part of our work, and it is crucial to maintain good disease control and sufficient sulphur supply.
Wheat genomics and he application of CRISPR-Cas9 to bread wheat remains difficult. The analytical techniques required for the accurate measurement of free amino acids and acrylamide are complicated, requiring specialist technical staff and expensive equipment, such as gas or liquid chromatography coupled with mass spectrometry. Although the progress in producing and annotating wheat genomes over the last few years has been spectacular.
Possibly the biggest barrier to progress in the area is regulation. While the EU has been ramping up its regulations on acrylamide it has not moved to free up the use of gene editing (or GM for that matter) for crop improvement. The EU's regulations rolled over into UK law after Brexit, and we wait to see if the UK government will make changes.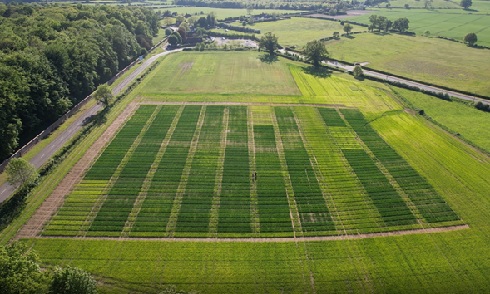 A drone image of experimental plots at Rothemstead
Working at Rothamsted enables us to combine molecular and biochemical research with field-based activities, backed up with statistical and bioinformatics support. We can use specialist glasshouse and controlled environment facilities for experimental plant cultivation. We also have access to a large experimental farm, which includes the only large GM field trial facility in the UK, and this is particularly important for us as we move the analysis of our CRISPR wheat lines from the glasshouse to the field.
I began my career at Rothamsted working on wheat seed protein genes. In 1991, I moved to Long Ashton Research Station and began to build and lead a project on carbon metabolite sensing and signalling, which developed to investigate the role of these mechanisms in the control of assimilate partitioning, crop yield, quality and food safety.
When acrylamide was discovered in food in 2002, our expertise in metabolic regulation put us in an excellent position to move into research on ways of reducing the acrylamide-forming potential of wheat, rye and potato. Important outcomes of the work on wheat to date include the development of optimal crop management regimes for keeping asparagine concentrations as low as possible, elucidating the asparagine synthetase gene family and its differential patterns of gene expression, and characterising asparagine synthetases at the biochemical level, as well, of course, as producing low asparagine wheat using CRISPR.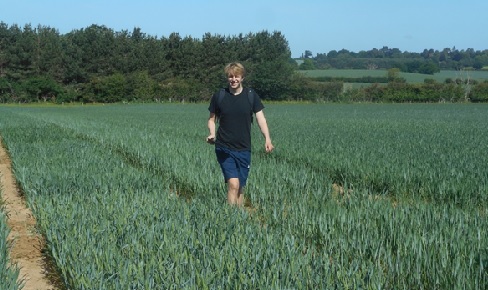 Joe Oddy monitoring his large field trial looking at the effect of crop nutrition on free asparagine accumulation in wheat grain
In addition to our research, an important aspect of our activities for many years has been public and stakeholder engagement. Our involvement in genetic modification, gene editing and the acrylamide issue means that there have been plenty of opportunities to speak to the media, address public meetings and talk to stakeholders throughout the food supply chain - from plant breeders and farmers to retailers.
Rothamstead has been locked down periodically since the start of the pandemic, but essential experiments have continued thanks to the efforts of Sarah and Joe and the support staff for the glasshouse and field experiments. Perhaps the area of science most affected by COVID is face-to-face meetings, and while we have all become experts in virtual meetings, the conference programme has been hit hard.
Professor Halford is supported at Rothamsted Research by the Biotechnology and Biological Sciences Research Council (BBSRC) via the Designing Future Wheat Programme. Joe Oddy holds a BBSRC Collaborative Training Partnership Studentship with partners: University of Reading and Mondelez UK R&D Ltd. Sarah Raffan's project is funded by the BBSRC's Super Follow-on Fund with partners: University of Bristol, AHDB, KWS UK Ltd, Saaten Union UK Ltd, RAGT Seeds Ltd, Syngenta UK Ltd, and Limagrain UK Ltd. BBSRC is part of UK Research and Innovation.
Professor Nigel Halford FRSB is a crop scientist within the plant research department at Rothamsted Research. He is also Special Professor at the University of Nottingham, and a former member of the UK's Advisory Committee for Animal Feedingstuffs (ACAF).