My Lab Unlocked: Fermtech CEO Andy Clayton AMRSB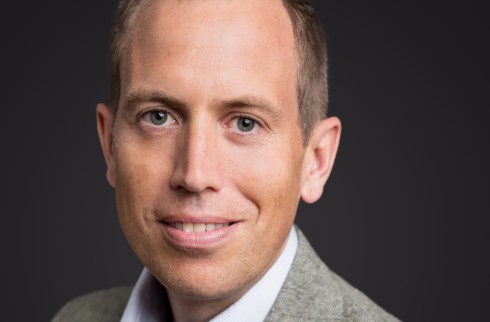 Andy Clayton AMRSB explains how the alternative protein industry is working to change the food we eat for the sake of our planet.
The Fermtech lab is a fun place to be. We have a corner room within a shared centre called The BioInnovation Hub at Brookes University in Oxford. We chose it for access to shared equipment, minimising our capital expenditure. But we like it here because, as a shared lab, it's always lively and has a shared sense of innovation and progress. I'm grateful every day to be here.
Our corner lab is separated. As one of two fungal fermentation teams on-site, we're kept separate to avoid cross-contamination between mammalian and insect teams. Our research focuses on extracting protein from filamentous fungi for food production, using a system called Solid-State Fermentation (SSF). It's a very practical, hands-on kind of research, almost like a kitchen. We bring in by-products from various food processing industries and use them as solid substrates for fermentation to produce and extract protein.
Our objective is to provide foods to replace current diets, without the ecological damage of animal farming. We sit within an industry called 'alternative protein', the common objective of which is to de-carbonise food production and provide foods to replace current diets, without the ecological damage of animal farming. Different sectors are at different stages of development. Plant-based food – the simplest approach – already has a good market share with well-known products and brands. Then there are two areas of 'future foods' under development: cultivated meat (using stem cell lines to make meat) and what we do: precision fermentation – harnessing yeasts and fungi to produce food proteins. Our approach of using SSF is unusual within the industry, as most teams use stirred-tank liquid-based reactors. We use it to minimise cost and complexity, and to contribute to the circular economy. Food has to taste good and be nutritious of course, but it must also be affordable, and complex solutions struggle to deliver this.
That's not to say what we do is easy. Our research is a succession of trade-offs. We're constantly having to optimise between factors such as yield, cost, complexity, and even flavour. Every time we change one parameter, it has an effect elsewhere. And everything must be kept simple for scalability. What we do is cross-disciplinary; it requires deep understanding of the biology (especially environment and lifecycle) of the organisms, along with protein chemistry, and mechanical engineering for making the equipment required to make the process work. I was trained as a biologist, which is our core, but our team includes chemists, food scientists, and engineers.
We like to marry best practices from science and business. We start each day at 8.47 with a 12-minute stand-up daily huddle. Each person shares their #1 thing for the day, and a place where they're stuck. We avoid debate and problem-solving, it's just about focus and communication.
A challenge for us this year has been fundraising. There has been a big retraction of private financing, both generally, and in our industry. Investment funds are shoring up their portfolios rather than adding new companies, and that has hampered growth. Government funding has stepped in to plug the gap and many in our industry, like us, have picked up grants from agencies such as Innovate UK to progress research. It has challenged my perception of public vs private sectors and who really takes on risk in our society.
We've had great success along the way. We're a relatively new company, just established in 2022, but we've moved fast. We've won several prestigious research grants, and were recently voted most innovative company in Oxford, which was a real boost. The successes that really matter, though, are in our customer-facing R&D – we recently completed a full range of products for our client that met their requirements for taste, quality, and price.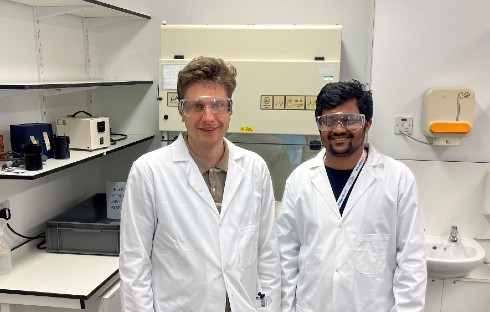 Team members in the Fermtech lab
I'm grateful to those who have supported us. Fermtech has been supported by grants from the Oxfordshire Local Enterprise Partnership (OxLEP) and Innovate UK, and the BioInnovation Hub and Enterprise Centre are a great place to call home. I'd like to thank our fabulous academic partners, Professors Rob Johnson (Nottingham), Frank Vriesekoop (Harper Adams), Frank Baganz (UCL), and Matthias Brock (Nottingham). And of course our team – Dmitry and Arun for being excellent scientists and great people to work with, and our Chairman Keith Coleman, who makes my life easy by always knowing what to do next.
Andy Clayton AMRSB is CEO of Fermtech, an alternative protein company which uses filamentous fungi grown on food by-products to make food proteins.