My Lab Unlocked: Dr Jill Johnson MRSB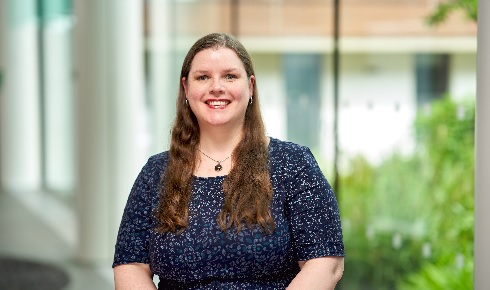 Dr Jill Johnson MRSB discusses the use of organoids and other cell culture techniques to study the structural cells of the lungs
October 5th 2021
My research focuses on the role of vascular pericytes, which are a little-known type of structural cell associated with the smallest blood vessels throughout the body. I study these cells in the context of lung diseases, such as allergic asthma, pulmonary fibrosis, and chronic obstructive pulmonary disease (COPD).
My group uses a combination of in vivo research and a range of different cell culture techniques, both in conventional cell culture dishes and in three-dimensional organoids as a model to interrogate how pericytes interact with other cells, such as endothelial and macrophages. Our ultimate goal is to use these systems to discover new drug targets that may someday help prevent or even reverse lung damage caused by sustained inflammation.
One exciting project in my group focuses on the progenitor cell capacity of these cells and their contribution to asthma pathogenesis and airway remodelling. Other projects are investigating the role of pericytes in supporting vascular regeneration in COPD and the crosstalk between pericytes and immune cells that coordinate the chronic, maladaptive inflammation that is a hallmark of many lung diseases.

The fact that pericytes have been described as 'tissue-specific mesenchymal progenitor cells' represents an opportunity to extend our knowledge of adult stem cells and the roles they play in disease pathogenesis and how they might be harnessed to improve patient symptoms and quality of life. It's also very exciting to investigate and validate new therapeutic targets for the treatment of chronic lung disease, with further potential implications on the treatment of fibrotic disease in general.
Before my first academic appointment at Aston University in 2016, I received my PhD in 2007 from McMaster University in Hamilton Ontario Canada, with a focus on the biology of allergic asthma. I subsequently did my postdoctoral training at the Karolinska Institute in Stockholm Sweden, at the Meakins-Christie Laboratories at McGill University in Montréal Québec Canada, and at the National Heart and Lung Institute, Faculty of Medicine at Imperial College London.
I have moved my research into multiple different directions, with my most recent success being the award of a Consortium Grant from the Lung Foundation Netherlands (Longfonds), in which I collaborate with colleagues as three Dutch Universities. This project aims to discover new therapeutic targets with the ability to regenerate the blood vessels around the alveoli (air sacs) in the lung in patients with COPD. This project has some exciting clinical implications and points us in a new direction in treating this currently deadly disease.
My research lab was shut down for six months in 2020 due to the COVID-19 pandemic - but we've bounced back and are ready to move our research to the next level!
Dr Jill Johnson has received research grant support from Longfonds, Alzheimer's Research UK Equipment Grant, the Biotechnology and Biological Sciences Research Council (BBSRC) and the Medical Research Council (MRC).
Dr Jill Johnson MRSB is a Senior Lecturer and Principal Investigator within the Biosciences Department, College of Health and Life Sciences at Aston University.