Science Communication Awards
The Awards are intended to reward outreach work carried out by young scientists and established researchers to inform, enthuse and engage the public.
Congratulations to our 2017 winners!
New Researcher Award: Mahmoud Bukar Maina, University of Sussex
Established Researcher Award: Dr Fiona Menzies, University of West Scotland
Awards
The competition is open to all researchers working in any sector of UK biosciences, from universities, institutes or industry. There are two categories of award:
New Researcher Prize: £750
The New Researcher Award is open to bioscience researchers currently reading for a Masters/PhD or in the first year of a post-doctoral position.
Established Researcher Prize: £1500
The Established Researcher Award is open to bioscience researchers who are beyond the first stages of their research career, as defined in the New Researcher category. The Society is looking for researchers who communicate their own work well, and who represent their own field strongly in the science communication world.
Please note: Professional science communicators, paid for science communication work beyond their role as a scientist, are not eligible to apply.
Eligibility
The Society is looking for an applicant with commitment to outreach over a period of time. This could involve a wide range of activities, from talks and written articles to hands-on demonstrations or art displays. The audiences can vary from school children to patients to the general public, but should not include a scientific audience above school level.
Overall the judges will be looking for a programme of activities that can be demonstrated to have brought good quality science to non-academic audiences in engaging ways that are likely to foster a lasting interest in the biosciences. Judges will be marking specifically on scientific content, influence and recognition, innovation, evaluation and feedback, impact on society and working with underserved sectors.
Previous Society of Biology Science Communication Award winners are not eligible to enter again.
Applications
The awards closed for applications on 30th June 2017. All applicants will be notified shortly after judges meet in mid-September. Contact Raghav Selvam if you have any queries regarding your application.
Contact
Email Raghav Selvam if you have any queries regarding this award.
Judges
Dr Steve Cross (Chair)
Steve is a Wellcome Trust Engagement Fellow and the founder of the academic comedy night Bright Club and the science communication cabaret Science Showoff. He was originally a human geneticist, before jumping into science communication and then spending the last few years as head of public engagement at UCL.
Dr Liz Granger
Liz is a previous winner of the New Researcher Science Communication Award. Having completed a PhD in cell biology, Liz recently began a role at UCLan establishing a new branch of the Ri Young Scientist Centre, which will provide hands-on practical science workshops for school students in the North West.
Rosie Waldron
Rosie is engagement manager at the British Science Association, where she manages the British Science Festival and other national programmes. Prior to this she spent several years developing and delivering public engagement events at the Natural History Museum and Imperial College London. Rosie also spent a year working in science television production and has an academic background in neuroscience and a Masters in science communication.
Aimee Eckert
Aimee is a cell biology PhD student at the University of Sussex. When not researching cell division in cancer, Aimee splits her remaining time between organising PubhD Brighton and performing science-based entertainment. She loves to entice science out of the ivory tower and into the local gin bar where new styles of science communication can be created, mixing different flavours of performance to create Brighton's most experimental cabaret: Dr. Jiggs Bowson's Charming Science Friends.
2016 Winners
Congratulations to the 2016 winners Hephzi Tagoe (right) MRSB, UCL, who won the New Researcher category and Dr Louise Hughes (centre) MRSB, Oxford Brookes, our Established Researcher winner. The awards were presented at the Society's Annual Awards Ceremony on Thursday 13th October during Biology Week 2016.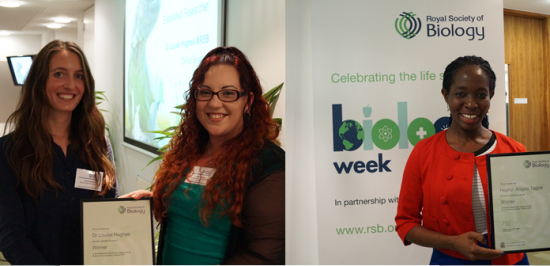 Previous feedback
Applications for the Awards were of a high standard and judges gave particular weight to applicants where:
The applicant demonstrated originality, innovation and reached a diverse audience
There was evidence of achievement, learning and reflective practice
The applicant took a leadership role and motivated their colleagues
Thought had been given to delivering depth of scientific content appropriate to the audience
The applicant pro-actively sought engagement opportunities and considered the legacy of their work
The applicant demonstrated knowledge and understanding of different platforms for engagement for both new and current audiences