Regional Grant Scheme Events
The Royal Society of Biology's Regional Grants of between £50 - £500 help members run an event or activity in their region that engages members and the local community with biology.
Currently in its third year the grant scheme has funded over 50 applications to run events across the UK and internationally. Here is a taster of some recent events and also a selection of previous events by region.
---
Pint of Science Nottingham: Planet Earth
23-25 May 2016
This year, for the first time ever, the Nottingham STEM Outreach society brought cutting edge research out of the lab and into the pub with support from RSB. Vinyl shop and gig venue Rough Trade hosted three evenings of talks, as visitors explored the hidden planet, unveiled the future of food and learned how to save the people of Earth.

Anyone expecting an evening of mainstream academic lectures, however, would have been sorely disappointed. With a live bee hive auction (including bees!) and a chance to interrogate real life scientists, the audience left the event with more than just a working knowledge of current research.
Talks included the uses of bird spit as medicine (PhD student Khalil Thirlaway), cannabis as a treasure-trove of safe new treatments (Dr Saoirse O'Sullivan) and the latest approaches to revolutionizing cancer treatment (Dr Paul Scotting). Douglas Adams' theory of evolution was explored (Dr Susie Lydon), the film Finding Nemo was revisited in the harsh light of conservation (Dr David Feary) and we all hailed gas-eating microbes as our saviours (PhD student Bart Pander).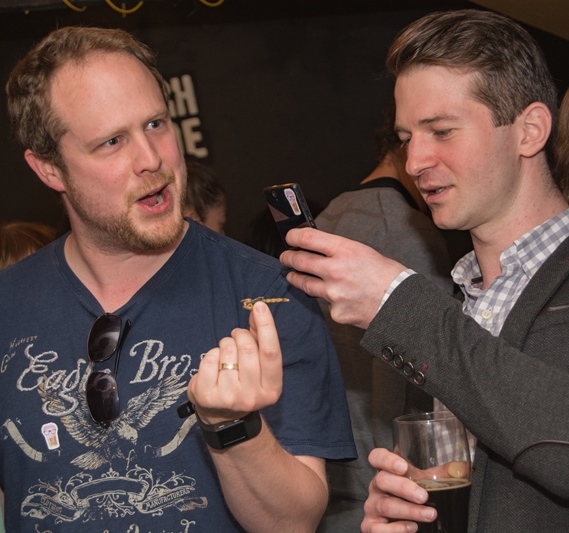 Then visitors got rather more than they bargained for: discussions on empathy with stressed tomatoes (Dr Matevz Rupar), reconsidering biodiversity (Dr Tom Reader) and the future of insect burgers (Professor Andy Salter) were followed by an edible insect supper (but not before everyone had a chance to take a closer look at them under our mobile phone microscopes, obviously).
While everyone learned something new about current research and what a real life biologist looks like, a few lucky people also left with prizes and a shiny new (temporary) science tattoo.
The overall success of the event left organisers and attendees overwhelmed with joy, and we look forward to next year.
Highlighting Biology with Fluorescence Microscopy
12-13 March 2016
Earlier this year, Dr Rhys Grant and colleagues from the Departments of Genetics and Pharmacology at the University of Cambridge joined forces to run a hands-on exhibit at the Cambridge Science Festival, to educate members of the public on the importance of green fluorescent protein (GFP) and fluorescence microscopy to life sciences research.

Over the course of a weekend, two thousand visitors were posed the question of how biologists investigate the internal workings of cells when they are too small to dissect and view by eye. Exhibit attendees were introduced to the concept of fluorescence by illuminating household materials, such as tonic water and washing up liquid, with ultra-violet light.
To much amazement and glee, they were then shown genetic engineering in action through viewing living, "glow-in-the-dark" (GFP-expressing) plants, microorganisms and flies to demonstrate the power of fluorescence as a biological technique. With their newfound knowledge, visitors took on the role of a researcher as they prepared their own microscope slides to look for fluorescence and study organelles in live yeast cells, whilst some of the younger guests channelled their inner van Gogh to produce fluorescent artwork.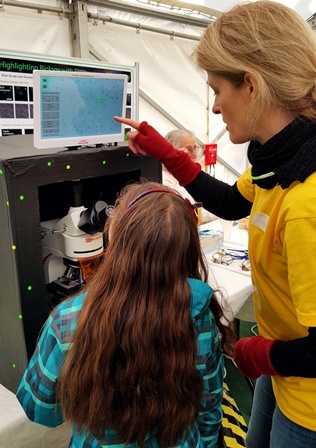 The exhibit was rounded off with a poster presentation of current research methods in Dr Catherine Lindon's laboratory (Dept Pharmacology, University of Cambridge @LindonLab) to demonstrate the essential nature of fluorescence microscopy in improving our understanding of cancer cell biology and cell division.
Feedback from the event was overwhelmingly positive with many praising the visual demonstration of genetic engineering and the opportunity it gave youngsters (and indeed people of all ages!) to take part in a scientific practical. Special thanks are necessary to the volunteers from Genetics and Pharmacology who gave up their weekend, the Society for funding the exhibit, and GT Vision who kindly loaned us a fluorescence microscope.
Dr Rhys Grant CBiol MRSB
A spoonful of soil: the story of antibiotics
5 March 2016
The Museum of Science and Industry in Manchester hosts monthly 'platforms for investigation' (Pi), where they offer space for teams of researchers to engage with visitors. Our team comprised staff and students from Manchester Metropolitan University, with colleagues from UEA Norwich. Our aim was to raise awareness of the value of antibiotics against the emergence of antimicrobial resistance.

We devised a range of activities that encouraged participation but also enabled us to measure engagement. Our first 'lure' was a diagram of a person: we asked whether our visitors had ever taken antibiotics, for what infection, and whether they had worked. After that, we talked about what antibiotics were, what they were used against (not viruses!), and where they came from – the soil.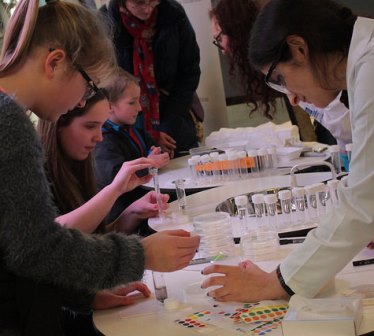 The most popular part of the event was the practical exercise, involving weighing, suspending and then plating out soil suspensions onto agar plates, for incubation back in our labs. Visitors looked at images of likely results, and played computer games, that revealed what happened when microorganisms became resistant.
Finally, we collected sticker cards – six stickers showed that all stations had been visited – for entry in a prize draw to win a lab coat.
We had 214 visitors, families and groups of adults. Over 200 separate 'infections' were indicated on our sick person, particularly around the throat. Over 70 agar plates were inoculated, although no-one came to see their results in person at the university the following Saturday…
Feedback on the sticker cards was entirely positive – "fun", "interesting", "helpful", "informative", "awesome". We were all pleased but exhausted as we headed home. Thank you to the Society for helping us to make the event a success. We are also reporting on the activity in a poster at the American Society for Microbiology 2016 congress.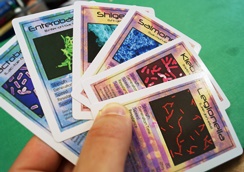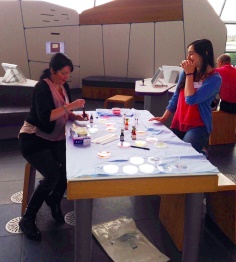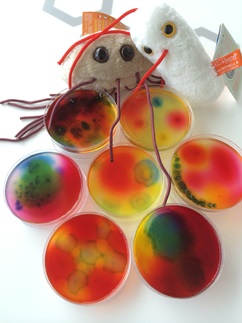 ---
Previous events by region
How do biologists use DNA Data for a healthier world?

Date: two events in August
Location: Colchester and Leicester
An open hack day that brings the public together to learn about DNA data and discuss the possibilities for sharing DNA data for health. Today there is a widespread understanding of DNA, however despite this the pubic as a whole remains unaware of the potential that their DNA data holds. The event will include activities and challenges for all types of age groups to help people better understand what DNA means and how science uses it.
Find out about other events happening in the Beds, Essex, Herts region
Location. location, habitat - who shares our neighbourhood?

Date: 2 events, July and October / November
Location: Swaffham + Attleborough, Norfolk


The event is a partnership between two professional biologists and two rural Norfolk primary schools, to survey diverse habitats on their school grounds in the summer, and again in the autumn, of 2014. The events will equip and encourage children to also survey a habitat in their own gardens with the assistance of their parents/carers.
Biology Week: UK Fungus Day 2014

Date: Sunday 12 October 2014
Location: Norwich Schools and Cathedral


Following on from the Success of UK Fungus day 2013, another program of events has been planned for 2014 across the UK, including a variety of different activities in Norwich, forming a 'fungal network' that the public can choose their own route through. The event seeks to inform people of the societal value of fungi, from the good (food, drink, medicines) to the bad (food spoilage & disease) and to raise understanding and awareness of how and why scientists study fungi as well as an exploration into our cultural links with fungi.
The 'Ick' Factor: Things That Make Us Squirm Can Help Us Learn


Date: Monday 6 October 2014
Location: Ipswich Museum


This event is a follow on from a session ran at the Children's Media Conference in Sheffield, 2013, called 'Entertainment - It's Natural', but this time instead of looking at how humour and narrative are used when learning about the natural world, speakers will discuss the use of 'the ick factor'; where what makes us disgusted and uncomfortable is also inherently interesting and can help engage audiences with science. The event will include a panel discussion with short presentations by each speaker, and questions from the audience.
Find out about other events happening in the East Anglia region
Biology Week: Health Fair

Date: During Biology Week (October 12th – 18th)
Location: Scunthorpe, North Lincolnshire
Health remains an important topic in the North Lincolnshire region. In recognition of this, professionals from a range of health care organisations will deliver talks and workshops to students and their families in the local area. Visitors will also be able to visit a range of activities along a carousel in the STEM laboratories and lecture and class rooms, exploring a variety of health care topics and professions through hands on activities designed and delivered by STEM students.
Flies and Biological Clocks: a short talk and hands on activities

Date: Biology Week
Location: Leicester


Circadian rhythms are daily biological rhythms that control every aspect of the physiology and behaviour of living organisms from fruit flies to humans. Fruit flies (Drosophila melanogaster) have been used as a model to study circadian rhythms for many decades and through a short talk and hands own activities, school pupils in the area will be introduced to how this process is controlled at a molecular level, as well as the importance of model organisms.
How do biologists use DNA Data for a healthier world?

Date: two events in August
Location: Colchester and Leicester


An open hack day that brings the public together to learn about DNA data and discuss the possibilities for sharing DNA data for health. Today there is a widespread understanding of DNA, however despite this the pubic as a whole remains unaware of the potential that their DNA data holds. The event will include activities and challenges for all types of age groups to help people better understand what DNA means and how science uses it.
Find out about other events happening in the East Midlands region
'Dinosaur Dig' Citizen Science Project (formation of a novel collection of Wealden Fossils for Public Show)

Date: Every 4th Saturday of the month for family friendly events. Mid-week dates for local pupils.
Location: Ardingly, West Sussex


An amazing 140 million year old discovery was made in the rocks that came from under Ardingley College: an exciting new dinosaur location for Sussex and the UK. Through a number of citizen science 'dinodig' events, the hope is to extract, identify and catalogue as many of the fascinating fossils as possible, to then be donated to the local museum. This is a unique opportunity to get local citizens involved in science and to explore a special ecosystem from the past.
Find out about other events happening in the Kent, Surrey and Sussex region
SciCraft: Brain Evolution

Date: 8th / 9th November 2014
Location: Brick Lane, East London


SciCraft: Brain Evolution is a set of workshops that form part of a Science Art exhibition called Art Neuro, taking place in Brick Lane. The aim of the workshop is to present the key concepts of brain evolution through a short presentation and screen printing, where attendees will have the opportunity to document the evolution of the brain through the creation of original printed t-shirts, canvas bags, and tea towels. It is an opportunity to learn about the evolution of the brain directly from experts in the field, in an informal and artistic way.
Find out about other events happening in the London region
Biology Busking

Date: 21st June, 17th July, 17th September, 20th October 2014
Location: Sharples School, Bolton, Lancashire


This project helps bring Biology to the people of Bolton, young and old, by assembling and equipping a team of Biology Buskers from KS4 students, to perform at local events. These buskers will communicate science in an effective, dynamic way, without the need for expensive equipment. The Biology busking will comprise of such activities as: The Adaptations Show; Kitchen Osmosis; Blood Sweets; Reflex Arc Wafers; Fusarium Graminarium; Taste Tests; Pop Songs with a Biology twist; and more. Watch this space to find out more.
Find out about other events happening in the North Western region
Mud lab: Introducing pupils to life beneath the mud flat

Date: October - November 2014
Location: Primary Schools around Belfast


The Mud Lab will engage local KS3 pupils with mud and sand flats around the coast of the UK, showing them that these are full of life, not just dirty smelly places. Pupils will learn how species interact in mudflat food webs and the types of animals that live in sandy compared to muddy areas. It is also an opportunity for the students to practice working scientifically. The event is a pilot project that will produce resources and lesson plans that can be repeated in schools elsewhere.
Find out about other events happening in the Northern Ireland region
The Bacterial Commonwealth games

Date: 21st June, 17th July, 17th September, 20th October 2014
Location: Glasgow and surrounding area


The bacterial commonwealth games take its inspiration from the actual commonwealth games, but with bacteria competing against each other instead of athletes. The event explores the different 'qualities' bacteria possess which allow them to survive within hosts, through workshops with participating primary schools and an interactive task. Pupils will be able to construct their own bacteria or 'competitor' for the bacterial commonwealth games, and take play 'bacteria top trumps', so they can fully appreciate what is needed to be a strong bacteria competitor.
Find out about other events happening in the Scotland region
Microscope Madness: Making the Invisible Visible

Date: Saturday 11 October 2014
Location: Dorchester, Dorset


Microscope Madness will be a hands-on, family scientific activity that will incorporate the use of high-quality microscopes and the unique observation of microscopic life. The event will help promote the aquatic sciences and reveal the wondrous life of organisms hidden from the naked eye, and teach the basics of how to identify what you find. It is also hoped that trough handling and observing living microbes, the event will encourage scientific debate amongst all that attend.
The Greenwood Project – Enabling an island community to understand and use its unique sustainable biological environment

Date: 28th June, 26th July, 17th August, 30th August, 27th September, 25th October 2014
Location: The 'Greenwood', Guersey


The Alderney Community Woodland Project was established in 2010, with the aim of creating native broad-leafed woodland in the heart of the island. The Greenwood Project aims to bring a small area of overcrowded sycamore and blackthorn under coppice management, improving local understanding of biological succession and management, and produce saleable products and teach wood-working skills to those that live on the island.
Find out about other events happening in the Wessex region
Assessing ecosystem impacts of eel declines through citizen science

Date: Autumn 2014
Location: Mid Wales (Llysdinam Field Centre) South Wales (Parc Slip, Wildlife Trust for South and West Wales)


The event will be a workshop, repeated once in mid- and once in south Wales, to train citizen scientists in the identification of prey remains from otter spraint (droppings), and to teach them about otter ecology, the importance of foodwebs, and the potential for cascading effects of environmental change. The proposed workshops provide the public with a rare opportunity to find out about the diversity of otter diet, and how it has changed over time, really engaging them with the hands on biological research. Participants will also gain valuable skills in using identification keys, and have the satisfaction of contributing data to scientific research.
National Eisteddfod - Simple STEM activities examining flower structure, pollen production, honey bee transfer and pollen tube development.

Date: 1st August to 9th August 2014
Location: National Eisteddfod, Carmarthenshire


Eisteddfod, and will run a number of simple 'hands on' STEM activities aimed at both primary and secondary pupils (as well as family members generally). These activities are intended to compliment larger and more informed presentations provided by the National Botanical Gardens of Wales, Cardiff University, Swansea University, and Aberystwyth University. The proposed activity is designed to provide some information on flower structure by making labelled diagrams and flower structure activities available.
Find out about other events happening in the Wales region