Naturalist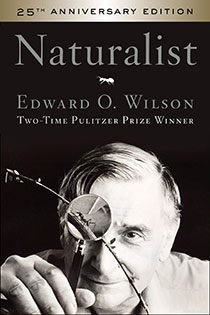 E. O. Wilson
Island Press, £22.99
From the very first sentence one is gripped by E.O. Wilson's autobiography. A hard to put down story of perhaps the pre-eminent biologist of the past 100 years. A naturalist-scientist and southern gentleman who over a long career, along with many brilliant collaborators (each of whom has a mini- portrait description so that they too become real people in the reader's eyes) has developed numerous paradigms about evolution.
The development and testing of these hypotheses, and the controversies around them, from Island biogeography to Socio-biology, are given in considerable detail. Wilson has won the Pulitzer Prize as much for his writing style as his content. People who read this are likely to have read some of his other work. They will not be disappointed to find out more of the man behind the science as well as getting a glimpse into all of his many major scientific contributions.
A self-confessed workaholic, whose studies on ants were propelled by an accident with a fish when he was seven years old, Wilson is, a 'happy man in an unhappy century'. After many years witnessing the devastation that rapacious growth has had on the planet he has become a spokesperson for the environmental movement.
He concludes his book by describing his deepest convictions, namely that science is the global civilization, that the spread of it's ethic provides his faith in humanity and the realization that we are alone, and thus the sole steward of the Earth, his religion. If one does need a religion that is about as good as it gets.
Derek Charlwood