Anatomy Museum: Death and the Body Displayed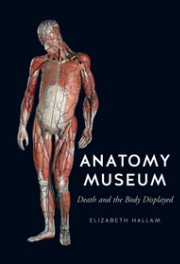 Elizabeth Hallam
Reaktion Books
£35.00
"He'd make a lovely corpse," says Mrs Gamp in Charles Dickens' Martin Chuzzlewit. There are lots of lovely corpses – and bits of them – in Elizabeth Hallam's new book.
If you are not comfortable with pictures of dead human bodies, this may not be ideal bedtime reading. However, the topic is covered sensitively and with due reference to social, cultural and historical contexts.
The book covers the various reasons for preserving cadavers – education is just one – and the mechanics of preservation, such as pickling in formaldehyde, skeletonising and 'plastination', as seen in Gunther von Hagens' controversial Body Worlds exhibition.
Although much of the material in the book is based around the Anatomy Museum of Aberdeen's medical school (the author is a senior research fellow at the University of Aberdeen's department of anthropology, among other roles), the examples come from all over the world: the catacombs of Rome, an ossuary in the Czech Republic, illustrations by Vesalius from Basel, mummies from Egypt, skulls from New Guinea and bones from the bound feet of Chinese women.
The many illustrations complement the text, particularly the sections about anatomical images and art depicting the human body in death. Some of the historical photographs are of lower quality, but their inclusion is valuable, as they help bring history alive. One of the black-and-white photos depicts the somewhat ironic salvaging of 'remains' after the bombing of the Hunterian Museum of the Royal College of Surgeons of England in 1941.
As many anatomical museums are not open to the public, this book provides an alternative insight. Mostly fascinating, sometimes disturbing, but very readable, Anatomy Museum will be of interest to human biologists, medical professionals and historians of medicine, as well as artists.
Sue Howarth CBiol FRSB