FEATURES
Setting the Standard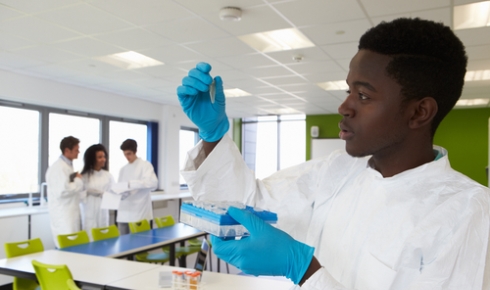 The RSB has been accrediting bioscience degrees since 2012. David Coates, who chairs the Society's Accreditation Committee, explains what the programme does and why it was badly needed in the biosciences
The Biologist 65(4) p24-25
The Society's Accreditation Programme is an independent and rigorous assessment of bioscience degree programmes in the UK. It recognises degrees that contain a "solid academic foundation in biological knowledge and key skills" and that "prepare graduates to address the needs of employers".
The programme also assesses degrees that focus on academic excellence and educate the "future leaders of research and development" (Advanced Accreditation), and overseas degrees (International Accreditation).
Accreditation of training has a long history, especially in fields such as medicine where the effectiveness of the teaching can have a dramatic impact on future practice. The concept of a collective of experts defining curricula goes back to the early days of the trade guilds and the training of apprentices.
In the UK, this is usually a responsibility of professional associations. While compulsory accreditation of medical and other healthcare courses has long been the norm, and even the voluntary accreditation of engineering disciplines is seen as the best way to ensure the standard of engineering training, this has not been the case for biology, where subject-specific accreditation has been largely ignored.
Our sister sciences – chemistry and physics – have a much longer history of degree accreditation. There may be many reasons for this, to do with the breadth of the subject, the lack of a professional employment route for most graduates and the very wide range of approaches that need to be taken. Chemistry and physics naturally have a relatively easily defined core component that is common to all degrees, but this has not been the case for biology.
Accreditation in numbers
536
programmes accredited by the RSB since 2012
6 countries
with institutions being accredited
6 months – average accreditation process period
The nature of the subject has also changed. Forty years ago, biology was still largely a collection of bits of knowledge in many different areas that did not link together coherently. Now, there is a strong linking framework and set of technologies across the subject, and it has become much easier to define 'core' skills and knowledge for the different general areas.
Several additional factors have emerged to convince the bioscience community of accreditation's value and the government of the importance of skills. For the community, it was about having an external reference point that could be used to protect and enhance the skills base of biology degrees. It started with a report written by the Association of the British Pharmaceutical Industry (ABPI) and submitted to government in 2005 highlighting the lack of practical skills in graduates in a wide range of STEM areas, including biology.
The formation of the Society of Biology in 2009 as a single voice for biology was seen as the most important collective action the community could take, creating a focus for policy and education initiatives that had not existed before.
Finally, government was pushed to address the ABPI's concerns, and told the Society quite clearly that it was its responsibility, under its royal charter, to deal with the issue of skills and quality. The government also supported a funding bid to the UK Commission for Employment and Skills to assist the development of an accreditation system.
This prompted a period of consultation and discussion with the community, which initially communicated that if we don't do it, someone else will force it on us. Our focus at first was on degrees that would provide excellent research training, coupled with the other skills that are needed in the biotech and pharmaceutical industries, rather than on general degrees in biology.
The agreement was that if this was a success, we would develop a much broader-based accreditation for which anyone could apply.
So what would this new accreditation system measure? Many other systems – in particular that for chemistry – were developed at a time when knowledge was the important measure of success for graduates. The more current concept of 'intended learning outcomes', expressed not just as knowledge but as skills and competencies, is still a relatively new idea and poses many challenges for assessment: how do we know that students have achieved these outcomes? It is still much easier to assess their knowledge than what they can do with it.
And yet that is the problem for the employer. In our modern world, information is everywhere, but understanding and use of knowledge and skills is much rarer. Indeed, one of the most common criticisms of biology graduates in the past was that they knew a lot, but didn't know what to do with it. Engineering and the physical sciences had successfully argued for funding for an extra undergraduate year, taught at master's level, to be able to implement a period of practice, and produce much more mature graduates in those disciplines.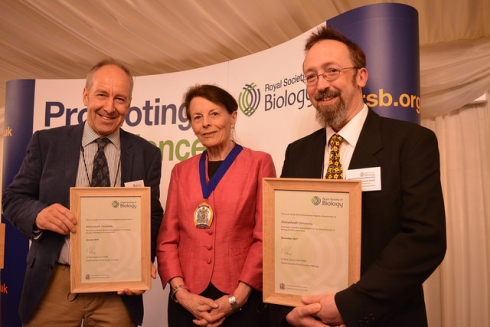 Representatives from Aberystwyth University at the RSB Accreditation Awards earlier this year
We wanted to do the same, but there was a concern that the huge increases in fees that were just about to come in would stop students from wanting to take that extra taught year. The solution was what is commonly called the Year in Industry, where a student takes a year out to work in an employment setting, and so Advanced Accreditation (our first step into the accreditation world) included that option. Interestingly, that option turns out to be quite difficult to deliver, because of the quality assurance and assessment needs, and students seem not to have been put off by an extra year of loans to get the integrated master's.
Since the launch of Advanced Accreditation, we have also developed a standard model that is suitable for any bachelor's degree in the biosciences. It uses the same approach of a small number of learning outcomes, which allow for flexibility while focusing on the areas where curriculum development was vital to deliver competencies – laboratory skills, creative approaches, critical thinking and problem-solving.
A real advantage of the outcomes-based approach is that there is no preconception about what is right and what is wrong. This celebrates the variety of learning environments and the breadth of the subject, always a challenge when trying to accredit a subject such as biology and one of the reasons that accreditation has come later to this area.
We have chosen to ask the developers of programmes to say what they think is appropriate, and then use a peer review system to review and comment on that knowledge base. At the same time, there is a heavy emphasis on laboratory skills and projects using critical thinking and information analysis because that is what our graduates need to succeed afterwards.
Has the approach worked? It is too soon to have evidence about the impact on employment other than subjective comments. What is clear is that a significant number of courses and universities have sought accreditation, and that the impact of the process itself has changed the way people think about putting together, reviewing or modifying curricula.
The focus on laboratory skills in particular, and ways of showing that every student has had the opportunity to develop those skills, has changed the way many bioscience departments approach the teaching of practical skills.
As we go forward, we will be looking to see whether employers of our graduates see a positive difference – change in educational approaches, especially in higher education, can be slow and somewhat uncoordinated. Accreditation has the opportunity to help colleagues develop their approaches and raise the standards of our graduates to even greater heights.
Find out more about the RSB accreditation programme
David Coates MBE FRSB is professor of life sciences at Dundee University chairs the RSB's Accreditation Committee