Opinion: Back to normal?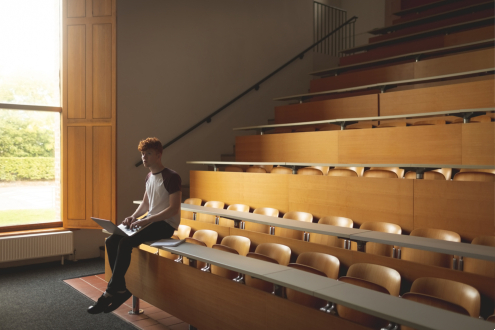 Two lecturers who started their university jobs during the pandemic look at how returning to 'normal' has created a new set of challenges
Picture the scene: it is 2020, mid-pandemic, and you are starting a new job as an academic lecturer. This is not just a new job, but your first job as a lecturer.
Imagine that first-day feeling – except there is no tour, no greetings, no setting up your new office space and finding the coffee room. Over the next few months you'll meet many of your colleagues just by email, teach your students via online video and deal with endless IT issues on the phone.
For many early career lecturers – and students – this became the norm. Slowly the world has reverted to 'normal', but for it some it feels like beginning again at day one. If this sounds familiar to you, you are not alone. As two early career lecturers, we want to open a discussion about the challenges we faced and things we found useful when moving from online to face-to-face learning.
Dr Rochelle Hockney:
"I jumped into a lectureship position straight from my PhD in 2020 at the same university where I gained my doctorate. Then in 2021 I moved institutes and began a senior lecturer position remotely. I had experience of navigating online teaching, but joining an established team from home felt lonely. Little did I know that the real challenges would begin once we reverted to on-campus teaching. Those first-day nerves hit again, standing up in an unknown lecture theatre in front of a hundred students rather than talking into a screen of avatars.
"During remote learning, students watched lectures from the comfort of home. It was a shock when they now needed to come onto campus and sit through a full hour of lectures without a trip to the toilet or fridge, and it was challenging for us as lecturers, having to hold their attention and engage them in activities.
"I thought they would be motivated and eager when they returned to campus. But I found a lack of interaction: students were not putting up their hands to ask and answer questions, or getting involved in discussions and tasks. They were used to typing their responses into a chat box and it seemed they were less likely to interact with their peers too. They lacked those important social connections formed in the first few weeks, which we all have fond memories of from our time at university.
"It was time to meet them halfway. I used the online quiz software that we had used during the pandemic in the classroom. This acted as a buffer – students were still benefiting from in-person content, but those who were not fully comfortable interacting out loud were still able to contribute.
"Some second-year biological science students (or new master's students) had also never ventured into a laboratory or used a micropipette before. Rather than a gentle and steady introduction to lab skills, they were hit with all of it in a much shorter time period. Processing all this change and new stimuli so quickly led to students expressing feelings of being overwhelmed. To reduce this I started to provide pre-lab briefing sessions and a debriefing session afterwards. Both helped students to understand what was happening rather than trying to process it all during the chaotic laboratory class.
"I also continued to use the laboratory simulation software we had used when access to labs was restricted, again to act as a buffer between the old and new learning environment.
"During the pandemic, lectures were recorded and this was expected to continue when we returned to in-person delivery. Although this can help to recap material or to meet the needs for assisted learning (i.e. text captions), it can also discourage students from attending classes. I saw a decline in attendance post-pandemic and students would say to me: "What's the point of commuting in if the lecture is going to be recorded and uploaded anyway?" One of my large lectures had just a 15% attendance record and there was even a decline in laboratory attendance.
"There is a strong correlation between attendance and success, so I needed to find a way to encourage attendance. The university has policies to monitor and follow up missing students, but this does not always resolve the issue. I found that positive reinforcement improved attendance: prizes for winning teams at the weekly quiz, interactive debates and practical attendance contributing 5% of their module grade.
"However, we need to consider the reasons behind this drop in attendance. These can include increased time pressure, part-time jobs taken on during the flexibility of online learning or caring responsibilities. Not to mention the increased prevalence of anxiety and stress as they step into a new learning environment."

Dr Alison Yeates:
"I took up my first full-time lectureship post in September 2021 when most universities were still operating on a fully remote basis. Prior to this I worked as a researcher at the same institution, so I didn't feel like a complete 'newbie' as I transitioned to my academic role.
"Furthermore, most of the learning material I inherited had already been developed into an online format and the frantic rush to set up digital infrastructure had settled down. However, I wasn't prepared for the fact that post-COVID it would feel like starting all over again.
"My role involves the coordination of laboratory practical classes for undergraduate students, so I started the return to on-campus teaching earlier than most – students attended practical classes on campus, masked and fully social distancing, while all lectures remained online. The hybrid university was still a ghost town and I arguably felt even more isolated than I did at home.
"In 2022/23, the return of fully on-campus operations ramped up and suddenly life seemed busier than ever. It was great to be back, but a lot had changed in the university system and as an early career lecturer I found my imposter syndrome had also upped its game.
"Finally being able to meet people without a digital interface is mostly wonderful, but I found suddenly having to communicate effectively to hundreds of students a real challenge to my confidence. I have also had to learn that although students email at all hours of the day and night, I do not need to respond to them in real time, which is harder than it sounds.
"And then there's the ever-growing to-do list: reverting online material and assessment for a classroom setting, organising rooms, catching colleagues in person, pastoral support, mixing office work with work-from-home days, finding time for continuing professional development and, oh yes, that little thing called research!"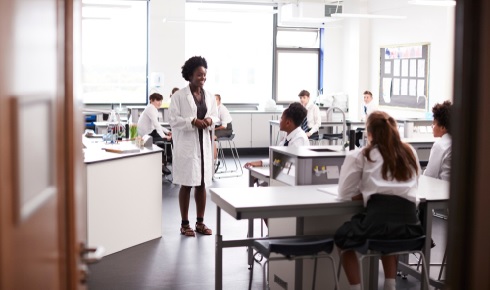 Support still needed
In an article for Higher Education in 2022[1], a survey of how the first UK lockdown affected doctoral and early career researchers found that a common theme was a disruption to research. This has hit those at the early stages of their career the hardest. There may also be an imbalance between those who used COVID-19 to get ahead in their career progression and those who were unable to do so because of extra responsibilities or difficulties at home.
Read any article examining staff perspectives on COVID and what jumps out is the huge range of both negative and positive experiences. Some positives in the workplace include greater flexibility, spontaneity and convenience in meeting/collaborating, and improved creativity and work-life balance.
We have managed to find a happy medium for the students, combining the strengths of remote delivery with the benefit of in-person teaching and learning. Hopefully, there is real momentum for these positive changes in the university setting to be maintained for the benefit of both students and staff.
However, to do so, it seems more important than ever that adequate understanding and support is in place for students, early career researchers and lecturers – we are, after all, the future of bioscience in this country.
Key to this will be support from the Heads of University Biosciences ECL group and internal networks for institution-specific issues. Having a buddying or mentoring system, and tiers of support from staff with different stages of experience, can also support ECL's integration into academia. Where institutions don't already have such schemes in place, this is an opportunity for us to step forward and help develop this supportive culture ourselves.
Dr Rochelle Hockney is a senior lecturer in biomedical science at Leeds Beckett University and an advisory member of the Heads of University Biosciences Early Career Lecturer Biosciences group (HUBS ECLBio).
Dr Alison Yeates is a lecturer in biomedical science at Ulster University and a member of the Nutrition and Innovation Centre for Food and Health (NICHE) at Ulster. She is also an advisory member of the HUBS ECLBio group.
References
1) Jackman, P.C. et al. The impact of the first COVID-19 lockdown in the UK for doctoral and early career researchers. High. Educ. 84, 705–722 (2022).