'It's important to find different ways to connect with people'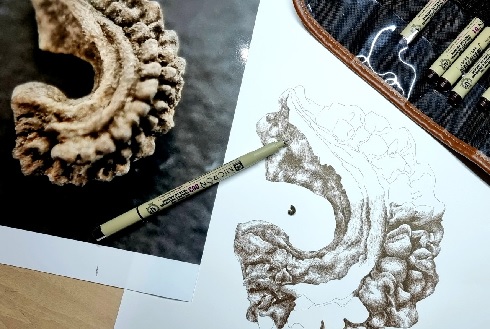 Illustrator Sarah Morrish talks to Emma Wrake AMRSB about her new guide to scientific natural history illustration and how art can help engage people with science and nature
Sarah Morris is an artist, author, illustrator and tutor. With a working background in ecology and conservation, through her company Nature's Details she combines science and art to raise awareness of the beauty and fragility of nature in all its forms.
She is a member of the American Society of Botanical Artists, the Guild of Natural Science Illustrators, the Chelsea Physic Garden Florilegium Society and a Fellow of the Linnean Society. Her new book Natural History Illustration in Pen & Ink provides practical tips and inspiration for those interested in drawing nature in all its forms.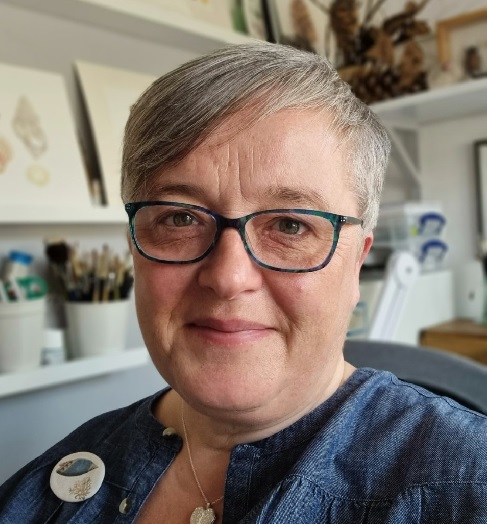 What led you to becoming a scientific illustrator?
When I was at school in the mid-80s, career advice was pretty dire. I was keen to work in conservation, but the school I went to had no positive encouragement to go into that field of work for women. I also loved education, so I began working in early years education.
I did loads of conservation work in my free time and I have always drawn and painted, so over time everything just blended together. It wasn't until my mid-30s, that I packed up a long career and went back to university to study ecology and conservation biology. I was so glad I did it that way round, all of the practical experience I'd had just really helped.
After that I worked as an ecological consultant for three years. I specialised in woodland and hedgerow surveys, badger surveys, and wintering bird surveys, but also did all the graphics work for the consultancy I worked for too. Unfortunately, I was then diagnosed with ME and because of the practical aspect of surveying, it wasn't something I could continue to do, which was devastating in a way. But I'd already started teaching natural history and art for the Hampshire Wildlife Trust, so I combined everything together and built up my company Nature's Details.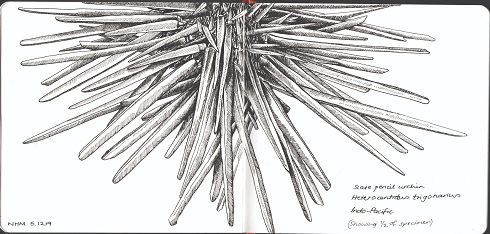 A sea urchin in pen and ink by Sarah Morrish.
Can you talk us through the process of starting an illustration?
In the beginning it's about finding a subject that's going to give you a buzz and drive you forward to examine and discover more. Over time, with age and experience, the direction that I've been lead in has become far more analytical with a much more thorough scientific basis to it.
Currently I'm working on a commission for Curtis's Botanical Magazine published by Kew Gardens, which is a watercolour painting of a Berberis shrub that hasn't got a name yet. This process began with a botanist in Liverpool sending me boxes of specimens and cuttings. I was able to gather a lot of the information and preserve it by creating a herbarium specimen. I had to preserve some of the flowers and leaves in vodka, because I didn't have any preserving solution!
I then used my microscope to really study the subject as much as possible while the specimens were fresh, because even if a specimen is preserved in alcohol the tiny flowers Berberis has can disintegrate really quickly. I also use a clip-on macro lens that attaches to my smartphone - it basically turns my phone into a microscope, but I try not to rely totally on that.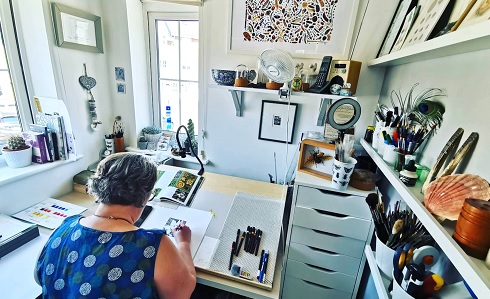 Morrish at work in her home studio.
Have developments in technology, like smartphones and macro lenses, changed scientific illustration?
Yes, there have been huge developments. I think in botanical illustration, the methods are still very similar, it's still very much about drawing from herbarium specimens that botanists bring back from trips. The traditional methods are still surviving, but there are ways that modern technology has been incorporated into it as well. With natural history illustration, I think things have developed in the sense that many natural history illustrators, medical illustrators and paleoartists will use a graphics tablet to develop their work.
Some of the modern methods have their foundation in the traditional ways. If you use a graphics tablet you've still got to have that observational drawing knowledge. You still have to connect to your subject and build up that relationship with your subject, so I think the two go hand in hand.
Have you had to adapt how you work during the pandemic?
When the pandemic began all of a sudden I had to cancel my in person workshops for the year, but then by the end of the summer I was working nonstop teaching workshops from my home studio. The sessions are crammed full of natural history and botanical scientific information that relates to the subject, as I'm trying to get students to make connections in the environment where they live.
What is your advice for people interested in developing their scientific illustration skills?
Have a pocket sketchbook and if you can, try to draw something every day. Whether it's a simple stone or a leaf that you pick on a walk, it can improve your hand and eye coordination and observation skills. It is a bit of a cliché, but practice makes progress.
If you want to get into scientific illustration very seriously you can link up with a museum. One way that I really developed in my career was by linking up with the Hampshire Cultural Trust. I used to visit their storage facility, which was in converted barns on an old farm. I had access to virtually all of their collection, including a whole room full of bird specimens. But you don't have to go behind the scenes to access collections, you can do it just walking into a museum.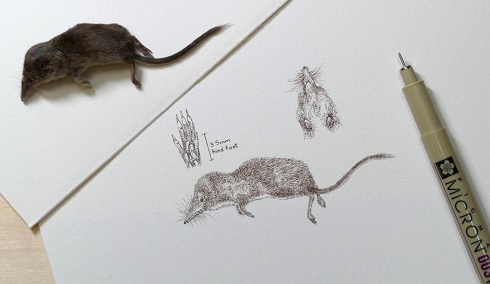 Morrish accesses specimens from local museum collections and the Hampshire Cultural Trust.
With your background in education, how do you think combining science and art can aid scientific education and public engagement with science?
There are so many ways. A lot of what I do is what I call lifelong learning. I teach more adults than children these days, but nevertheless, it is still about that lifelong learning and appreciation of nature from the early days, right the way through to nearing end of life.
I think it's extremely important to find different ways to connect with people, especially on subjects such as climate change. Sometimes that can be through artistic endeavours and introducing people to conservation, habitats and species. It can be that artistic element that helps people connect visually. People that I've been teaching say, 'Oh, the walks I go on are a lot slower now, because I'm looking at things more'.
During the COVID lockdowns I think people were far more aware of their local environment too because they could only walk near home or spend time in their gardens. Developing that interconnectedness does not always need to be through heavily formal opportunities and structured activities.
Sarah Morrish's book Natural History Illustration in Pen and Ink is available through The Crowood Press.
Sarah Morrish is an artist, illustrator and tutor whose commissions include the Natural History Museum and the Royal Botanic Garden, Kew. Her latest book, the Natural History Illustration in Pen & Ink, is available through The Crowood Press.